As human beings, we have an innate tendency to take things for granted, especially when it comes to our health – we feel that we're invincible until a disease or an injury strikes upon us. There's strong wisdom behind the adage 'health is wealth'. Thanks to the growing awareness about blood glucose monitoring and diabetic stages, more people opt for treatments and lifestyle that reverses the deadly spiral of chronic symptoms of such diseases.
According to the evidence, individuals who own responsibility to strictly control their diabetes have significant improvement in their life and have more satisfactory treatment. Strict controls are associated with a healthy diet, exercise, as well as blood sugar monitoring and proper/timely administration of the medications (if prescribed). Having said that, a portable glucose meter can do wonders in the life of a diabetic patient as it can ease the monitoring process and enable quick action to be taken against abnormal blood sugar levels.
The main issue arises when people opt for cheap, low quality glucose meters which not only produce inaccurate readings, but also prove to be costly in the long run, in terms of health. Therefore, you should keep aside that kind of gambling and go for a reliable glucose meter which is renowned within the market, such as Accu-Chek.
Introduction and Brief History
The diabetic patients, as well as their families are mostly well-versed about the medical instruments as they may have been experimenting with various instruments for years. Having experience, Accu-Chek is the go-to glucose meter for majority of the diabetic patients, as well as for those who like to keep a blood sugar monitoring tool, across the world. The brand has successfully managed to retain its excellent reputation within the medical science niche, and its origins date back to the early 1980s. This is when the concept of monitoring glucose levels at home became prevalent.
Fast forward to the present where we now have various advanced glucose monitoring tools, which are not only portable, but much more reliable when it comes to the accuracy of the readings. Moreover, Accu-Chek's heavily acclaimed Performa and the worthy successor Instant, are two glucose meters that you will come across if you're on the lookout of buying a new glucose meter for yourself. Further, in this article, we will be making a comparison between these two powerful medical instruments, to justify if the Accu-Chek Instant is worth the upgrade over the Accu-Chek Performa.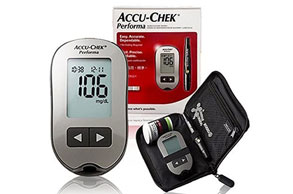 Quick view on Amazon
Available in
: Australia, Canada
UK and US

Quick view on Amazon
Available in
: Australia, Canada
UK and US
Here's a glimpse of the comparison between the two products in the table below.
Specifications
| | | |
| --- | --- | --- |
| Features | Accu-Chek Performa | Accu-Chek Instant |
| Display | LCD | LCD |
| Dimensions | 94mm x 52mm x 21mm (LWH) | LCD77.1mm x 48.6mm x 15.3mm (LWH) |
| Result Time | 5 seconds | 4 seconds |
| Memory Capacity | 500 Tests | 720 Tests |
| Test Averages | 7, 14, 30, 90 (Days) | 7, 30, 90 (Days) |
| Lancing Device | Accu-Chek FastClix | Accu-Chek FastClix |
| Blood Volume | 0.6 µl | 0.6 µl |
| Battery Type | 1 Coin Cell CR2032 | 1 Coin Cell CR2032 |
| Under-fill Detection | Yes | Yes |
| Haematocrit Range | 10-65% | 10-65% |
| Blood Sample Type | Capillary, venous, arterial, neonatal | Capillary, venous, arterial, neonatal |
| Weight | 40 grams (With Battery) | 40 grams (With Battery) |
| Form Factor | Portable/ Handheld | Portable/ Handheld |
| | | |
Disclosure: This post contains affiliate links. When you purchase a service or a product through the links, I sometime earn a commission, at no additional cost to you. Read my full disclosure here.
Design Overview
Where Accu Chek Performa has a minimalistic, yet sleek appearance, Accu Check Instant features a transformed, yet a modern look with the overall design and aesthetics being quite appealing. Both the devices have their own personality and make a great medical instrument which is handy and can be carried anywhere. Many of the specifications are similar, however, Accu Chek Instant does take the lead in some areas like result time and overall performance.
Features Comparison
With the advanced functionality of Accu Chek Instant including Bluetooth connectivity and test strip ejector, it has definitely taken the lead when it comes to glucose meters. With a 4 seconds result time, it beats the former Accu Chek Performa which, on the other hand, features a 5 seconds result time. While a second's difference is minute, it is still worth mentioning that the latter overpowers the former.
More convenience and accuracy in results is promised in Accu Chek Instant, while the same is for Accu Chek Performa, the successor gives quick results, along with a supported memory 720 tests over Performa, which has a supported memory of 500 test results. Both of these are more than enough for your daily blood sugar monitoring.
The newest Instant, not only has a unique target range indicator, but also allows you to customize your own personal requirements. The best part is that Accu Chek Instant does not need a memory strip unlike other devices, which makes it far more convenient than the rest of the blood glucose monitoring devices.
While both the devices require the same level of blood volume, it barely takes any effort to see the results as the tiny droplet of blood spreads out to give you instant results which are quicker in Instant, as compared to Performa, as mentioned above.
Similarly, both the devices have alerts for strip expiry, re-dosing, etc. The distinguishing factors between Performa and Instant are the result time, the supported memory and the lack of memory chip with Accu Chek Instant. This is a benefit as only testing strips are required to generate results, and not the use of memory chip for each box of strips before the results are generated.
Performance and Safety Standards
Owing to Accu Chek Instant being the latest and the newest device, one should expect superior performance, than the Accu Chek Performa. Undoubtedly, Instant does boast higher security and safety protocols, ensuring greater levels of accuracy, along with support for other research. It not only fulfils the requirements of ISO 15197:2013/EN and ISO 15197:2015, but exceeds them, while Performa meets the ISO requirements, which makes it equally safe, but Accu Chek Instant wins the bet here too!
Conclusion
Before we write the concluding note, another Accu Chek product we reviewed is worth Reading Accu-Chek Active vs Accu-Chek Instant.
While both the devices are reliable, Accu Chek Instant does feature modern and advanced functionality, with a intuitive design as well. Besides that, both are tested and backed up by evidence when it comes to the accuracy of the results, which is the thing that matters the most.
All in all, since Instant is the latest version that not only features advanced functionality, but also gives faster results, more supported memory, better satefy standards and a lot more, it is going to be our recommended pick. As the name suggests, you can 'instantly' get your blood glucose monitored, and that too, with a handheld device!