To maintain your oral hygiene, brushing is crucial and with electric toothbrushes, it is made very easy for the people who finds it difficult.
These are the conventional devices one can use to avoid hard work that comes with it. As of 2023, we now have even more advanced smart toothbrushes that can communicate with your phone seamlessly and give you insights and suggestions for your oral health.
Advantages of an Electric Toothbrush:
Although manual toothbrushes are capable of producing similar results, they require much more labor and technique to achieve that. An Electric Toothbrush is more than just a cool piece of tech you can show off to your friends and has been growing in popularity rather fast in the recent years thanks to more people taking care of their oral hygiene. Below are five advantages of using an electric toothbrush over a manual or conventional one:
Relative ease of use: Electric Toothbrushes require much less manual labor from the operator since they vibrate, rotate, or oscillate automatically.
Healthier for the gums: It is often hard for us to estimate how much pressure we apply during manual brushing and we end up doing damage to our gums in the long run. We can also remove enamel coating from our teeth which can make our teeth sensitive to cold or warm substances. With electric toothbrushes, they notify you in case you are applying too much pressure.
Much more efficient: The brush heads in electric toothbrushes move at high speeds to clean more of your teeth in less time and their movement allows them to reach into trickier places in mouth.
More thorough: Electric toothbrushes are designed to notify you to clean each of your quadrant thoroughly. Some toothbrushes have an integrated 30 second alarm for that purpose, but some of the brushes we have round up even show the results on a smartphone application.
Better accuracy: 2 minute timers are integrated into most of the electric toothbrushes to ensure you are dedicating the right amount of time for your oral health.
Electric Toothbrush Maintenance Cost?
Before committing to an electric toothbrush brand, it is imperative to check what kind of replacement brush heads are available and what are the costs of replacing them. Below is a graph comparing the cost per replacement head which you would need to buy every three months, in US Dollar in America, for the basic brush heads: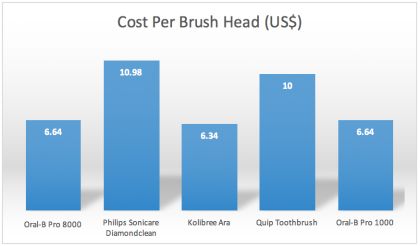 Disclosure: This post contains affiliate links. When you purchase a service or a product through the links, I sometime earn a commission, at no additional cost to you. Read my full disclosure here.
Best Electric Toothbrush For Healtier Gums –  2023
| | | | |
| --- | --- | --- | --- |
| Product Name | Brush head | Battery life | Prices |
| Oral-B Genius Pro 8000 | Rotating | 12 days | View Deal |
| Philips Sonicare Diamondclean 9700 | Sonic | 21 days | View Deal |
| Kolibree Ara with Games for Kids | Sonic | 14 days | View Deal |
| Fairywill Electric Toothbrush | Sonic | 30 days | View Deal |
| Oral-B Pro 1000 | Rotating | 6 days | View Deal |
1. Oral-B Pro 8000 Genius – 'Brush like a Pro'
Oral-B has always been somewhat of an industry leader in toothbrushes and it hardly comes at a surprise to find the most versatile and effective tooth to be offered by them. The Oral-B Pro 8000 Genius happens to be not only an electric toothbrush, but also a smart toothbrush. Plus, it carries American Dental Association's Seal of Acceptance, if that is of substance to you.
Design and Build:
The toothbrush is an absolute joy to use thanks in part to the fact that it is really ergonomic. Manufactured by Braun, we have the expertise of a well-established accessories manufacturer with this electric toothbrush. The grip ensures that your hand is holding the brush really firmly while it works on your teeth. The build quality though, leaves a lot to be desired specially since it is primarily constructed of plastic and similarly priced alternatives are often constructed of metal. Nevertheless, we have absolutely no doubts about the endurance of this toothbrush since Oral-B toothbrushes have proven their durability and thousands of satisfied customers are here to vouch for it.
Performance:
This is the area where the Oral-B Genius Pro 8000 blows away the competition. The brush head is an oscillating-rotating design which has proven its performance on previous Oral-B products. The package comes loaded with 3 different brush heads for your preference so you have a year's supply at hand. When it comes to electric toothbrushes, it doesn't get any better than this. One thing we would like to point out however, is the operation noise. The rotating motor in the Genius Pro 8000 is audibly louder than the competition and Philips toothbrushes are much quieter than the Oral-B lineup.
Features:
One of the biggest reasons for the high price tag of this brush is that it comes loaded with add-on features that cannot simply be matched by cheaper alternatives.
In addition to the three additional brush heads, you also get a really slick travel case that can charge your phone and brush.
A wall-mount for your smartphone is also included which allows the mobile app to use the front camera of your smartphone for position tracking.
The tracking is accurate although mounting your smartphone daily is more of an inconvenience and other alternatives are present which do not have this requirement.
Verdict:
The Oral-B Pro Genius 8000 is not what your average consumer buys. If you are really serious about electric toothbrushes, and want the best of what is available in market including all the gimmicks, then the Genius Pro 8000 definitely deserves to be considered.
Cons: The app is easy to use but a hassle to operate.
2. Philips Sonicare Diamondclean 9700 – Rechargeable Oral Opulence
Reliability and quality is what the Japanese brand Philips is famous for, and this reflects in their top of the line Sonicare Diamondclean rechargeable electric toothbrushes. It is a very capable toothbrush but once you look at the price tag, you would have to think about it again.
Design and Build:
One department where this toothbrush shines is the design and build quality. Each detail has been meticulously crafted to give the toothbrush an elegant look and premium feel. The seamless metal body is a welcome addition in this toothbrush, since we thought it was one of the biggest shortcomings in the Oral-B contender. The build quality is also similarly excellent with the generous use of metal which gives it a reassuring feel and makes it a pleasure to use. Ergonomically, it is also light, slim, and a pleasure to use.
Performance:
With 31000 oscillations per minute with its vibrating brush head, its frequency lies in the audible range hence the name Sonicare, which makes seem like a gadget straight out of a science fiction movie. Without a shadow of doubt, the performance on this toothbrush is definitely top notch. When we compare it with the Oral-B Genius 8000 pro, the results are comparable but some people claim that the Oral-B is marginally better with its rotating brush head. However, we must also realize that this product is much quieter than the Oral-B alternative, and the noise is a gentle humming which really adds to the experience.
Features:
The position tracking on the Philips Sonicare is actually better in the sense that it does not require you to use your smartphone's camera.
The travel case that is included is also elegant and easy to carry.
Comes with a wireless charging dock which can be combined with the included small plastic bracket or a Philips branded rinsing glass.
Verdict:
. The experience and reliability offered by Philips is unmatched. However, if raw performance and uncompromised brushing is your priority, then Oral-B should have a slight edge, thanks in part to the experience in leading the industry.
Cons: Very pricy.
3. Kolibree Ara – Smart Toothbrush
Who said brushing should be a boring task? The Kolibree Ara is the ultimate smart toothbrush that you can buy in 2023 which really changes the way people have brushes their teeth by making it a fun experience. Although the manufacturer is marketing it as the first artificial intelligence enabled toothbrush, the context of article intelligence can be open for debate here. This French startup may not be the most popular brand, we really believe what they have on offer is worth considering.
Design and Build:
The design of the Kolibree Ara is also very beautiful and minimalist. It is light, ergonomic, seamless, and appealing. Consequently, the brush is very simple to operate unlike some other high end toothbrushes take make brushing too complicated and the decision fatigue from deciding between 'modes' becomes frustrating for some. The build quality is nothing fancy but the brush seems really durable and has a reassuring feel in the hand.
Performance:
This is the department where this toothbrush really falls behind the other ones in this list. Don't get us wrong; it is a perfectly capable and an above average electric toothbrush but of course, this list compares the best electric toothbrushes and let's just say that it will not blow you away with performance. However, do not let this factor from keeping you from buying this one, simply because the difference between the results of electric toothbrushes are so minute that a normal consumer would not even care.
Features:
Can function as a complete smart toothbrush even when it is not connected to your phone which makes it more convenient.
Beautiful app with a very appealing interface.
There are games included inside the application which work and respond with your toothbrush positions to completely cover all parts of your mouth while you enjoy playing the games.
There is also a ranking system if you are competitive so that the whole family can compete for better scores! The position tracking does not require phone to be connected and the personalized suggestions really help.
Verdict:
The Kolibree Ara is a solid recommendation from us. This product is very unique and makes the brushing experience really entertaining. The only place where we felt it lagged behind the top of the line offerings was performance but this toothbrush is competitively priced and offers much more smart features than any other toothbrushes as of 2023.
Cons: The little behind performance compared to others.
4. Fairywill Electric Toothbrush – Magical and functional
We are now heading into the budget category and the Fairywill Electric toothbrush is a unique product which does not cease to amaze. The most difficult part about finding a budget Electric Toothbrush is that most of them don't seem to offer good battery life. However, with this electric toothbrush, you'll be getting 30 days of usage, on just a four hour charge, and that too, supported by thorough cleaning.
Design and Build Quality:
The design of the Fairywill toothbrush is quite compelling and minimalistic. The design language of this Electric Toothbrush emits simplicity, and shows that it had been carefully designed. The sleek design of the resting part of the Electric Toothbrush, with its seamlessly integrated brush handle, gives this brush an edgy and contemporary appearance. While its price maybe on the budget side, but holding one up won't make you think, by any chance, you've spent in a budget Electric Toothbrush.
Performance:
While it may not resonate, in terms of performance, with the top tier Electric Toothbrushes, the overall performance is satisfactory enough for the average user. This toothbrush uses the sonic technology, like the one being used in Philips, and Sonicare. The ultrasonic technology being used here provides for effective plaque cleaning and oral care. Overall, there's little to complain about, in terms of performance.
Features:
Ultrasonic technology coupled with IPX7 water resistance allows for both performance and maintenance at the same time
ADA accepted means that the Toothbrush has been proven effective in removing plaque and other debris from teeth
2-minute onboard timer is very convenient for you to get the right amount of oral care and brushing
Color reminder bristles will allow you to get an indication for when to know about head replacement
Powered by USB charger, meaning that you'll be getting 30 days of fantastic brushing with just a 4 hour charge.
Verdict:
The Fairywill toothbrush is an affordable, easy to use, and highly functional product, for the average consumer. We give it our solid recommendation because it is hard to find such great value when we start factoring in the cost : performance ratio. While it may not be the best performer, it manages to deliver good performance at a price that is difficult to beat, on top of that, giving you a battery life of 30 days!
Cons: A little behind performance.
5. Oral-B Pro 1000 – The starter's kit
While it is great to have 'smart' toothbrushes with all their shiny and gimmicky features, many dentists actually believe that a simple electric toothbrush with a 2-minute timer and decent performance is all you need to keep those pearly whites. This toothbrush is in fact the most basic when it comes to electric toothbrush while maintaining American Dental Association's Seal of Acceptance.
Design and Build Quality:
If you are okay with below-average build quality, then this product will most definitely hold much merit for you but if it does, then it can be a deal breaker. The electric toothbrush is light and made out of plastic, so it is nothing fancy. Compared to Oral-B pro 8000, it is much inferior when we compare their quality of build. The design is also outdated and quite uninspiring but hey, you get what you pay for and we must not forget that this product is the cheapest and more effective one out there.
Performance:
The Oral-B Pro 1000 electric toothbrush most certainly does not disappoint when it comes to performance. Although not nearly as great as the top 2 products we have featured, this one has more than enough power inside to give you a proper, invigorating deep clean that you expect from an electric Oral-B product. The best part and worst about this package is that it uses the same brush heads as its more expensive siblings like the Pro 8000, which means comparable results but higher costs of replacements.
Features:
Most feature-packed electric toothbrush designed to be keep the technicalities to the minimum.
Makes brushing truly a hassle free experience at the click of a simple button.
Quip is a subscription based service and you get new brush heads delivered every three months.
It also operates on a AA sized battery which can easily last you between two to three months, eliminating the need for an extra cord outlet for charging.
Brushing could not be easier thanks to Quip!
Verdict:
Sometimes, it is best to have a great, dependable, and simple toothbrush and the Pro 1000 from Oral-B might just tick all these boxes. While there are definitely some tradeoffs, one department where this toothbrush is no slouch is performance. At the price, we give this product our solid recommendation for average budget consumers.
Cons: None.