Fitness trackers are devices that keep track of your daily activities such as calories burnt, the amount of steps you took, and your resting heartbeat. These indicators are an effective way of making sure you are on track for your fitness goals. As of 2018, the fitness tracking technologies are pacing at an interesting rate, and we have access to some of the most amazing ones at our wrists in form of fitness trackers. As more smartwatches are introduced in the market, the distinction between an smartwatch and a fitness tracker is becoming less clear, but we have compiled a list of some of the best options available, regardless of their origin.
Best Fitness Tracker Watches 2018
here will be a table
1. Fitbit Ionic Smartwatch – Nobody does it better
Few brands are as established in the space of fitness trackers than Fitbit and with their latest offering, the Ionic, they have managed to create a hybrid between smartwatch and fitness tracker so that you can enjoy the best of both worlds. Consecutively, it falls within the price range of Apple watch, which makes it their direct competitor.
The design of the Fitbit Ionic smartwatch is polarizing at best with its angular, sharp sides and big bezels. We are still not sure why Fitbit says the design is inspired by 'space', but we are sure that they are lightyears behind Apple in this department.
However, the Fitbit Ionic manages to deliver very well on build quality. In addition to being waterproof, the watch has a significant heft to it thanks to the metal body, without being too heavy. A process called 'nano-moulding' was used to fuse metal and plastic for better signal and radio reception, which was only limited to smartphones before.
The software is a custom operating system designed by Fitbit which will be accepting third-party applications, but we are not very sure that it can compete with Apple watch in this regard too. However, for a smartwatch, we were very surprised with the battery life. The Ionic is able to last around 4-5 days easily on a single charge. Lasting around a day and a half at maximum, the Apple watch is simply blown out of the water. Similarly, the fitness tracking accuracy, and the experience of Fitbit in this niche, make this device much more suitable for fitness tracking than the Apple watch.
By providing you an instant calorie tracker during workout and exercise, it motivates you. Moreover, you can also create your own playlist of songs and listen to it while running. With this fitness tracker, it is convenient to measure your health and fitness over time. Some of the main features are listed below:
A personalized step-by-step coaching is provided to the user during workout.
The activity tracker automatically recognizes and records your activity.
A stellar battery life of about 4-5 days.
A built-in GPS to track pace, distance and routes.
Provides quite accurate pulse rate readings.
Gives access different applications.
Final Thoughts:
With its amazing battery life, a set of amazing fitness tracking features, and functionality of using a smartwatch, the Fitbit Ionic Smartwatch truly deserves the first position, even though it is not perfect considering the price tag. Also, if a dedicated smartwatch is what you prefer, then the Ionic might not be the best fit because it lacks a dedicated speaker or microphone. For those users that want the ultimate, the Fitbit Ionic is the latest and greatest the industry has to offer as of 2018.
2. Garmin Forerunner 235 – It's simple Period
When it comes to plain, simple activity tracking, the Garmin Forerunner 235 comes to mind. Even without all the bells and whistles of similarly priced fitness trackers or smart watches, the Forerunner 235 stands out in its own way in terms of simplicity and functionality.
Although though this is subjective, the design of the Garmin Forerunner 235 seems very appealing to us. The circular display is flanked by 5 buttons on either sides which control the watch. The whole body of this watch screams sports, yet in a very subtle manner. And yes, this is not a touch screen product, which may be a deal breaker for many at this price.
Garmin is no slouch when it comes to the build quality of this device, too. The device is waterproof and shockproof. Again, the plastic build for this price may not be a very attractive package at this price, but it helps keep the fitness tracker very light and therefore, easy to wear for longer periods of time. The adjustable silicon wrist bands are also very comfortable. The buttons however, leave a lot to be desired since they are mushy and hard to press.
The battery life on this activity tracker varies greatly between usages. Heavy users who use 24-hour tracking, heartbeat, and Bluetooth, can expect 2 days of battery only, whereas turning off these features can extend the battery life up to 9 days. The software experience is absolutely incredible with the Forerunner 235. The menus are easy to navigate and the presentation of data is very clear and appealing. The focus is on fitness tracking and smartwatch features are only limited to phone notification updates via Bluetooth. Some of the highlighting features include:
Very precise distance and location readings thanks to the GPS + GLONASS support.
Receives smart notifications and can also be used for social media sharing.
Reminds you to be active if you are sitting for an hour or longer.
A battery life of 11 hours continuous tracking, and it can last for 9 days if used simply as a watch.
Final Thoughts:
If a premium, accurate, and quality fitness tracker is what you want, and you are willing to pay a lot for that, then this fitness tracker might just be for you. With its prime focus on fitness tracking, Garmin has produced a product that is simple, yet very functional.
3. Apple Watch Series 3 – Brilliance
If you are looking to up the game (and the cash), Apple has just the right product for your fitness tracking needs. Let's face it: Apple really knows how to build some quality products, and is shameless enough to charge high prices for them. It is time we accept this, and marvel at what they call the Apple Watch Series 3.
The design of the Watch 3 is unmistakably Apple; with a touch of elegance and smooth, curvy edges. Beneath the beautiful 2.5D curved glass is a 1.65-inch AMOLED display that impresses with its colors and contrast. The glass and metal construction of this smartwatch give it a hefty and reassuring feel, which is strengthened by its water-proofing. Overall, the build of this watch shows linearity and smoothness that we have come to expect out of all of Apple's products.
Coming to the fitness tracking features, this year Apple has really focused on its software. The tracking is very precise, the heart rate monitor measures your resting heart rate and gives you suggestions, it tracks your steps, how many stairs you have climbed, you many calories you have burnt, and much more. The WatchOS 4 also enabled High Intensity Interval Training (HIIT) workout support which will be useful for those looking to shed some pounds. The interface is very appealing, and the information is presented very neatly. In addition to all this, these are the highlighting features of this smartwatch:
24-hour heart rate tracking, with suggestions on how to improve health.
Reminds you to walk, drink water, stay active, and follow your daily goals.
Third-party app support means that you can customize your health preferences like a diabetes management app, a sleep monitoring app, and thousands more.
A 2-3 day battery life on the non-LTE version even with accurate GPS tracking and advanced smartwatch features is impressive.
Final Thoughts:
The Apple watch series 3 is made for a target demographic: the hardcore apple user that necessitates on the perfection and performance Apple delivers in every product. At this price, it is not necessarily the most rational buy, but it has a certain appeal. And for those looking forward to buy a smartwatch and want the fitness tracking features of a high end tracker, then this watch might just be the perfect fit.
4. LINTELEK Activity Tracker ID115 – Small in price, Big in features.
Just when you thought that fitness tracking would empty your wallet, we present to you the Lintelek ID115 activity tracker. Do not get fooled by the looks of this one; it is not one of those expensive Fitbit trackers. However, it is a device that gives you so much at such a price that you will be compelled to purchase one!
The design of the ID115 is absolutely beautiful. The band is uniform throughout in its construction and the display is neat and attractive. The body of this tracker is built out of plastic and the bands are of silicone, therefore the ergonomics of this device ensure maximum comfort for long-term use. The best part about the build is easily the IP67 waterproofing, which means you can be worry-free in case some sweat trickles down your arm or a glass of water spills on your beloved tracker.
Keeping in mind that this is not a touchscreen fitness tracker, the experience is still very fluid. Once you install the smartphone app on your IOS or Android device, you have access to your heart rate patterns, sleep patterns and quality, the amount of calories you burnt, the distance you traveled, and much more. The highlighting features of this fitness tracker are listed below:
IP67 waterproofing ensures worry-free workouts.
The ability to access your smartphone notifications and camera remotely is a nice feature.
Watchfaces are customizable through the smartphone app.
A battery life of 5-7 days is stellar.
Final Thoughts:
While the Lintelek ID115 is no Fitbit, it comes really close, and at a price that we cannot complain about. For those of you considering to buy a fitness tracker for the first time, and are not very enthusiastic to spend hundreds of dollars on one of the expensive trackers, this product is just the right place to start.
5. Coffea H7-HR Fitness Tracker.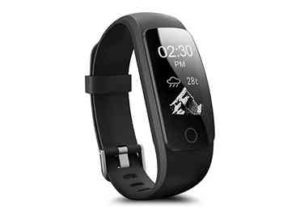 Although it is slightly more expensive than the Lintelek ID115, the Coffea H7-HR is a worthy competitor. In fact, it offers much value for the additional price, including a bigger screen with touch, while still being very cheap under $50.
The design of the Coffea H7-HR is very appealing. In fact, this is one of those fitness trackers that everybody notices and asks about. The round, glass body is shrouded by a single piece of silicon that can be detached and replaced with other colored ones. In terms of build quality, the device is built well for the price, but nothing too shabby. Plus, it is splash-proof only, and a dedicated waterproofing rating would have tremendously helped users buy this.
The software is one place where the Coffea H7-HR beats our previous contender, the ID115. This is simply because the touchscreen enables much better accessibility and eases navigation. In addition to this, the screen is bigger at 0.96 inch. In terms of fitness tracking, the software is identical to the ID115, so the same features are present, with the exclusion of the following:
A better battery life.
A bigger screen with touch enabled.
A single strap for the entire activity tracker instead of two separate ones.
Final Thoughts:
The Lintelek ID115 is a very capable fitness tracker, but for those looking to pay a few extra bucks for the aforementioned extra features, the Coffea HR-H7 is a perfect band. Most important of these features is the touchscreen, which helps tremendously in navigating through the menus.
VERDICT:
Health is one of the most important aspects of life, and an investment in a fitness tracker is one way of keeping track of things that matter in life. Whether you are an athlete or an amateur, fitness trackers in 2018 are very easy to operate so that everyone can get a chance to improve their health. Our list has included some of the best fitness trackers available, alongside some budget options so that you can ultimately decide what features you are willing to pay for in a fitness tracker.