Selecting the right product can make a big difference when one is on their journey of muscle healing and recovery. As such wide options are available, choosing the best out of many that will fit your needs and preferences is a difficult task. Herein lies the relevance of our blogpost on the two leadings names in the fitness industry, Hyperice and Therabody.
Each device with its distinctive features, smart technology and the intriguing claims of maximizing the muscle recovery have made a name for themselves among the other well-known companies of percussion massager.
Therabody, a brand associated with excellent performance, and Hyperice, known for its smart technology and inventive approach, will be facing off in this in-depth comparison. To give you a thorough grasp of what sets one apart from the other, we will be closely examining elements like design, power, adaptability, and ease of use.
What is a Percussion Massager?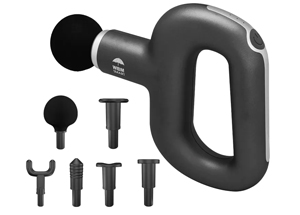 With an ergonomic and user-friendly design, the percussion massagers use a type of deep-tissue massage called percussion therapy, which uses quick, repetitive movements to target particular muscle areas. These gadgets have a motor that produces high-frequency vibrations that are transferred through different heads or attachments. These heads apply quick, pulsing pressure to the targeted muscle area when they make contact with the skin. This percussion effect promotes blood flow, eases tension in the muscles, and activates the body's own healing mechanisms.
Disclosure: This post contains affiliate links. When you purchase a service or a product through the links, I sometime earn a commission, at no additional cost to you. Read my full disclosure here.
The Contender vs the Challenger: Who will win?
1. Hypervolt 2 Pro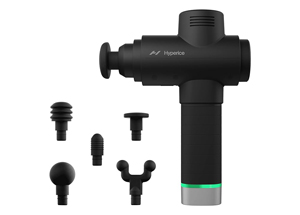 Quick view on Amazon
Available in
: Australia, Canada, UK and US
Established in 2010, Hyperice is at the forefront of the wellness and recovery industry, setting a new standard for performance-driven technology. Hyperice's mission was clear from the very start: to provide athletes, fitness freaks, and individuals with the tools they need to optimize their physical well-being. The Hypervolt series is a tribute to Hyperice's dedication to deliver superior solutions.
In this highly anticipated clash between Hypervolt and Theragun, the Hypervolt 2 Pro emerges as the symbol of Hyperice's relentless pursuit of excellence. It represents Hyperice years of research and development, featuring five variable speeds and a new digital dial, making it the most potent device in the Hypervolt series to date. The Hypervolt 2 Pro signifies not just a product, but a commitment to pushing the boundaries of what's possible in percussion massage technology.
Product Specifications:
| | |
| --- | --- |
| Weight | 2.6 lbs |
| Size | 8 x 2.5 x 10.4 in |
| Battery Life | 3 Hours (Detachable) |
| Speed | 5 Percussion Speed Levels |
| Motor | High torque 90 W Brushless Motor |
| Bluetooth | Bluetooth Connectivity to the Hyperice App. |
| TSA – Approved | Yes |
| Pressure Sensor | Patented Pressure Sensor |
2. Theragun Sense Percussion Massage Gun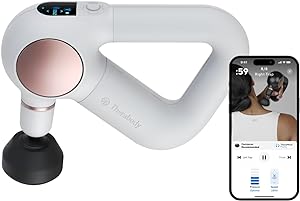 Quick view on Amazon
Available in
: Australia, Canada, UK and US
Therabody, formerly known as Theragun, was founded by Dr. Jason Wersland, a chiropractor, and athlete who was driven by a personal quest for effective, drug-free pain relief, he was on a mission to create a device that would not only alleviate pain but also enhance recovery and well-being. This mission bore fruit in the form of Theragun Sense Percussion Massage Gun, the world's first and most recognizable percussion massage gun.
Theragun quickly garnered attention for its groundbreaking design, performance, and immediate relief it offered to its users. Combining deep-tissue muscle therapy with calming breathwork exercises, the Theragun Sense Percussion Massage Gun addresses stress relief, pain management, muscle soreness, and sleep enhancement, all in one package
As we prepare for the clash between Hypervolt and Theragun, the legacy and success of Therabody are evident.
Product Specifications:
| | |
| --- | --- |
| Weight | 1.63 lbs |
| Size | 12 x 3 x 12 in |
| Battery | 2 Hours (120 mins) |
| Speed | 5  Speed Levels |
| Bluetooth | Bluetooth Connectivity to the Therabody App. |
| Pressure Sensor | Built in biometric sensor for heart rate readings |
Hypervolt vs Theragun: A Head-to-Head Comparison
Let's do a side by side comparison of key features of both the devices:
| | | |
| --- | --- | --- |
| Features | Hypervolt 2 Pro | Theragun Sense |
| Weight | 2.6 lbs | 1.63 lbs |
| Attachment Heads | 5 | 4 |
| Battery Life | Up to 3 Hours | Up to 2 Hours |
| Noise level | 54-66 dB* | 70-75 dB* |
| Grip Design | Pill Shaped Grip | Triangle Grip |
| Price | $329 | $299 |
| Warranty | 1-Year | 1-Year |
Both Hypervolt 2 Pro and the Theragun Sense are well built and designed for durability ensuring that you get an enjoyable and percussive therapy experience. Individual priorities should be considered along with the budget while making your decision between these two exceptional massage guns.
Case Studies
Chiropractors and physical therapists frequently advocate for the integration of percussion massagers into recovery routines. But it's not just about professional opinions; real-life case studies and user reviews provide a window into the practical benefits of these devices
A study was conducted in August 2021 to analyze the effects of Percussion Therapy via Theragun on Athletic Performance and Range of Motion and demonstrate that 30 seconds of Percussion treatment per muscle group with the Theragun increases the ROM Flexibility without negatively affecting the performance variables.
Furthermore, the acute effects of percussion massage applied on the quadriceps muscles with the Hypervolt device on ROM and performance were analyzed and the results shows a significant increase in the Hip flexion Range of motion after the percussion massage with the Hypervolt device.
In conclusion, the battle between Hypervolt and Theragun extends beyond marketing claims and specs; it's a deeply personal choice. Chiropractors, physical therapists, and fitness trainers offer diverse perspectives, and the preferred device often aligns with individual needs and expectations. Real-world user reviews further emphasize the effectiveness of both devices. Ultimately, the choice lies in understanding one's specific requirements and selecting the percussion massager that complements their wellness and recovery goals.
Final Verdict
As we've journeyed through the comparison of these two industry giants, it's essential to recognize that this market is continually advancing, with innovation and new features shaping the landscape. The decision to invest in a percussion massager should be a made with a keen understanding of one's specific needs and priorities.
As you ponder the battle of Hypervolt vs. Theragun, keep your wellness goals, preferences, and specific needs in mind, and let the power of informed choice guide your path toward optimal muscle recovery and holistic well-being.