No-touch and Digital Thermometers have become important first aid essentials and medical equipment, especially after the Covid-19 Pandemic.
Today, we can witness so many medical brands selling No-touch Thermometers making people often get confused which brand to go for. If you find yourself in this situation, then there's a brand that we can confidently recommend, especially when it comes to quality No-touch Thermometers. And that brand is iHealth.
Talking about iHealth's No-touch Thermometer, it is an excellent portable No-touch Thermometer that you can buy without hesitation, if you plan on investing in a portable Blood Pressure monitor to keep regular track of you and your family's body temperatures.
iHealth's No-touch Thermometer is engineered to provide you instant body temperature readings in matter of seconds with preciseness and accuracy. And the best part is that you don't even have to physically touch the Thermometer to get the reading.
Best iHealth No-touch Thermometer Brief:

Quick view on Amazon
Available in
: Australia, Canada, UK and US
Showcasing a gun-inspired design, iHealth's No-touch Thermometer is a highly functional, 3-in-1 non-contact digital Thermometer that offers instant body temperature readings through a generous distance.
A solidly built No-touch Thermometer with a clean and well thought design, iHealth's No-touch Thermometer is a simple and highly convenient body temperature monitor, ideal for every household.
iHealth's No-touch Thermometer is an excellent performer, to say the least. The features and on-board options are simple to navigate around providing you with accurate readings.
iHealth No-touch thermometer is a great investment in terms of a digital thermometer for infants too.
Disclosure: This post contains affiliate links. When you purchase a service or a product through the links, I sometime earn a commission, at no additional cost to you. Read my full disclosure here.
What makes the iHealth No-touch Thermometer Special?
Showcasing a striking and convenient design, the best feature of the touchless Thermometer by iHealth is that it includes 3 Ultra-sensitive sensors that are engineered to deliver accurate and instant results, regardless of testing situation and dynamics.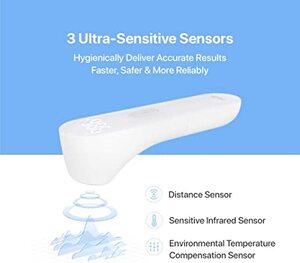 The three sensors include distance sensor, sensitive Infrared sensor, and environmental temperature compensation sensor that collectively work together to deliver unmatched accuracy and best-in-class readings.
Some Standout Features
Here are some standout features of iHealth No-touch Thermometer: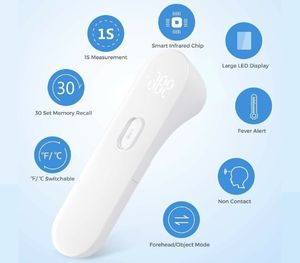 High measuring accuracy
Intelligent fever alarm
1-second reading
Ultra sensitive sensors
Environmental temperature compensation sensor
Sensitive Infrared sensor
Distance sensor
Fahrenheit to Celsius Switch
Gentle vibration
LED Backlight for reading
The Good and The Bad
iHealth's No-touch Thermometer is an excellent contactless body temperature monitor because of its easy-to-use mechanism and simple design, along with precise reading accuracy. However, there are pros and cons of every product.
Final Thoughts
iHealth's No-touch Thermometer is an excellent No-touch Thermometer offering precise measuring accuracy and performance. It does the job fairly well. The product is ideal for everyone as the price is also budget-oriented.
What's more solid is that the No-touch Thermometer is backed by thousands of different owner reviews who have rated this No-touch Thermometer positively, holding great views on the product.
In a nutshell, iHealth's No-touch Thermometer a solid buy, offering consumer with an excellent option to switch to a No-touch Thermometer for time-to-time body temperature monitoring.