You must have come across the term 'Oximeter' or 'Oximetry,' at least once in your life. While the term itself is strictly medical; however, it represents functionality of vitals, in terms of oxygen saturation, which is quite far fetched.
Introduction and Brief History
Pulse oximetry is essentially a noninvasive method for examining an individual's oxygen saturation. Hence, an oximeter, like the one's we're going to cover today, are portable medical tools to monitor a person's oxygen saturation.
Oximetry dates back to the 1935, where a German physician known as Karl Matthes coined and developed a one of its kind 'two-wavelength ear O2 saturation meter,' making it the first oxygen saturation monitoring device in history. However, the original Oximeter device was developed by Glenn Allan Millikan in the 1940s'
Fast forward 8 decades, which is almost a century, we find ourselves with a ton of portable oximeters available in the market, like the Zacurate 500DL and the 500BL, but what makes these devices unique, and which one would you pick up? That's for us to answer today.
Who is the Pulse Oximeter designed for?
Pulse Oximeters are used to determine and monitor oxygen saturation levels with the help of two lights (including Infrared). Doctors all across the globe, use a pulse oximeter for an array of purposes.
A pulse oximeter is typically designed for individuals suffering from pre-existing health conditions, which are directly linked to one's body's oxygen levels. These conditions may include:
Lung Cancer
Respiratory Disease
Anemia
Asthma
Heart Failure or Cardiac Arrest
Asthma
Pneumonia
In addition to the aforementioned conditions, a pulse oximeter might also come in handy for individuals undergoing a surgery, or have already underwent a surgery, to check person's lung capacity, or tolerance for different types of activity levels, especially for athletes or even in the case of/ or to check sleep apnea.
Zacurate 500BL vs 500DL
1. Zacurate 500DL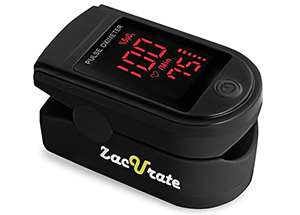 Quick view on Amazon
Available in
: Australia, Canada, UK and US
By now, you must be thinking that investing in a good pulse oximeter is highly recommended for people suffering the above-listed conditions, and even people who don't have such conditions, as a precautionary measure.
Price: 22.80$
The most precise readings in the case of low blood index too.
Pulse Rate Range: 30bpm to 250bpm
It is also designed for sports enthusiasts, aviators, trainers, bikers, mountain climbers, or any one who wants to keep track of their oxygen saturation on the go.
2. Zacurate 500BL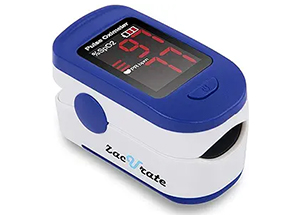 Quick view on Amazon
Available in
: Australia, Canada, UK and US
Price: $14.90
Pulse Rate Range: 25bpm to 250bpm
Very compact with only 3.2 ounces of weight
Finger Chamber with Fast Spring System allows for wide range of finger sizes.
Having said that, today, we're going to cover the highly popular and heavily acclaimed Zacurate 500BL, and its successor, the 500DL, to see which one fares better, and also to look at the differences, which might make one want to pick one, over the other.
Read our Best Pulse Oximeter Picks
Zacurate has been producing one of the best pulse Oximeters in the industry, internationally. It is one of the most popular choices amongst consumers, especially on digital platforms like Amazon. The company's mission is to manufacture and provide industry-leading and world-class pulse oximeters, with unparalleled accuracy and overall performance.
Coming back to the company's top seller, which is the 500BL, the oximeter has been nothing but splendid, and received great acclamations. However, the 500DL, quickly diverted all attention, by becoming a worthy successor. However, we'll look at each one, in depth, today, to determine whether the added changes are actually worth buying, over the 500BL or not.
Specifications
| | | |
| --- | --- | --- |
| Product | Zacurate 500BL | Zacurate 500DL |
| Dimensions (in inches) | 2.10 by 1.10 by 1.30 | 1.97 by 1.97 by 0.79 |
| Protection | ABS Plastic Shields | ABS Plastic Shields + Silicon Cover |
| SpO2 Range | 0% to 99% | 0% to 100% |
| Sp02 Resolution | +/ – 2% | +/ – 1% |
| Pulse Rate Range | 25bpm to 250bpm | 30bpm to 250bpm |
| Pulse Rate Resolution | +/ – 1bpm | +/ – 1bpm |
| Accuracy Deviation | +/ – 2bpm | +/ – 2bpm |
| Battery | Two AAAs' (included) | Two AAAs' (included) |
| Weight | 3.2 ounces | 3.52 ounces |
| | | |
Note: Both of these devices by Zacurate are not intended for medical use and hence, are not tested by the FDA. Both the 500BL and 500DL are designed for athletes and aviation or sports purposes.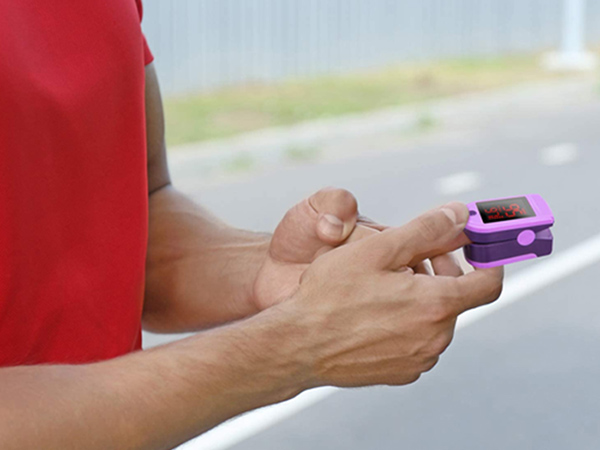 Disclosure: This post contains affiliate links. When you purchase a service or a product through the links, I sometime earn a commission, at no additional cost to you. Read my full disclosure here.
Design
Zacurate's pulse oximeters, namely the 500BL and 500DL are equally, eye-catching, in terms of design language, and feature different, yet unique design elements. Both of the pulse oximeters sport ABS plastic construction, which acts as an Infrared Shield, for external protection.
The main difference in design lies in terms of dimensions and other small, yet notable aesthetic elements. The 500BL, for instance features a traditional looking design, which is typical of a portable pulse oximeter, featuring a relatively bulky design, with white and blue two-toned color. The dimensions of the 500BL are larger than its successor, making it heftier overall; however the 500DL is ever so slightly heavy (roughly .3 ounces). Moving our attention towards the 500DL, the device sports a minimalistic, compact, and stealthy-looking design, sporting an all-black look, with white and yellow accents for the side branding. Not only that, the company has other color options as well, to make the device even more appealing. The dimensions of the latter are also fairly compact and noticeably smaller than the 500BL, making it more travel-friendly.
The 500BL and the 500DL also feature large LED displays for easy access, in dark lighting conditions, and for overall better readability. The company also claims that the hardware of the 500DL is improved, which now features medical grade materials, that makes the device hypoallergenic and latex free.
The overall design language might not matter for most consumers, given the intended use of the device, however, for the nitpickers, the 500DL would be the clear design winner here.
Features and Performance
Both products by Zacurate are feature-rich, when it comes to portable pulse oximeters. Both the 500BL and the 500DL have almost the same set of primary features; however, the key difference with the 500DL lies in its ability to provide and oxygen saturation display of up to 100%, while the 500BL is only limited to 99%. While both devices feature same amount of accuracy Deviation (under controlled settings), which is +/ – 2bpm, the increase of 1% oxygen saturation capacity to display, makes the 500DL quite attractive, since oxygen saturation is readings are quite sensitive.
In addition to that, the 500DL is designed to give the most precise readings in the case of low blood perfusion index even, which is a notable improvement. The upper pulse rate range of the 500DL is also increased to 30bpm, as compared to the 25bpm on the 500BL. This might not really matter, but it adds to the overall accuracy of the pulse oximeter.
Coming to the battery performance of the device, both pulse Oximeters feature easily-replaceable battery caps, which houses the two AAA batteries, included in the package of both pulse oximeters. The battery life is determined by the quality of AAA batteries you end up putting in either of the pulse oximeters, either the 500BL or the 500DL.
Overall, performance of both pulse oximeters is good. But good does not determine the best. It's a clear indicator that the 500DL is superior, in terms of performance. While 1% increase in oxygen saturation displaying capacity might not fully get to the average consumer, but I'm actuality, pulse oximetry is highly sensitive and requires precise, so, in essence, such minor improvements, add to the overall accuracy and performance of the device, which is why we give it to the 500DL in this area.
Pricing
The Zacurate B500DL is priced slightly higher than its predecessor, selling at around $25. The B500BL, on the other hand, came at a list price of $23.95, which is roughly $24. I don't think that such a negligible increase in price, will keep you from picking up the new and improved 500DL, given the fact that the 500BL is discontinued by the company, and you won't find one up in common.
Conclusion – Which one to choose?
Given the specifications, design and features, overall performance, and pricing, it is no secret that Zacurate's newer 500DL series pulse oximeter would emerge as the clear winner, and hence, the popular and above all, the practical choice.
In essence, both devices are equally good, and even if you end up picking the previous 500BL, given that you're getting it for a much cheaper price tag than the 500DL, you won't be finding a significant of a difference, in terms of overall accuracy, since both of these pulse Oximeters are designed for sports purposes, especially for athletes and aviation.
Things like better overall oxygen saturation and lesser deviations matter when you're reading and evaluating, in terms of medical context, which clearly, these devices aren't designed for, as they are not evaluated by the FDA.
In short, I would still recommend that you invest in the newer 500DL pulse oximeter by Zacurate, if you're out in the market for a new one. The prices are almost identical, and you're getting better overall features and performance.