It's truly amazing to see how technology has evolved over the years, especially, when we talk about audio and sound-related peripherals.
A decade ago, people only knew about 3.5mm headphone jack, as the main go-to earphones device. Fast forward 10 years, we're living in a world where the 3.5mm headphone jack is almost obsolete, and the times of Bluetooth earphones have emerged. That too, have evolved further, as many categories of Bluetooth headphones have emerged, which brings is to our topic of interest today, the Truly Wireless Earbuds.
The year 2023 is dominated by Truly Wireless Earbuds that seem to offer the best experience, when it comes to portability and enjoying music. Initially, Truly Wireless Earbuds were quite expensive, but today, you can get an immersive experience out of Truly Wireless Earbuds, in extremely budget-oriented packages, getting connectivity and sound quality that quite matches up to the likes of Samsung and Apple, who are considered to be the premier of Truly Wireless Earbuds.
Evolution of Truly Wireless Earbuds
The first few Truly Wireless Earbuds were showcased by brands like Bragi Dash, FreeWavz, and HearNotes. However, in actuality, the first Truly Wireless Earbud itself was displayed by Japanese Electronics company called Onkyo, at IFA 2015.
Truly Wireless Earbuds came to mainstream at CES 2015, and since then, they have been creating a lot of hype. Unfortunately, the brands securing the preemptive advantage of showcasing the relatively new technology, became overshadowed by the likes of Apple, which released the ever so popular Apple Airpods.
Fast forward a few years, we have Chinese brands like MPOW, Tronsmart, Anker, and many others, stepping up their game, and providing excellent Truly Wireless Earbuds, in a budget-oriented price tag.
With that being said, we'll be discussing the best Budget Truly Wireless Earbuds you could spend your money on, in 2023.
Disclosure: This post contains affiliate links. When you purchase a service or a product through the links, I sometime earn a commission, at no additional cost to you. Read my full disclosure here.
Best Budget Truly Wireless Earbuds in 2023
1. TOZO T10 TWS Earphones – The People's Choice
Quick Overview
The TOZO T10's are the best budget truly wireless earbuds, hands down. Needless to say, this product is backed by 90,000+ positive reviews, making it the value champ and the people choice. Featuring Bluetooth 5.0, Wireless Charging, and Stellar sound quality with punchy, there's hardly anything to complain about these TWS earbuds.
Description of Features
Hi-Fi Stereo Sound quality equipped with 8mm large dynamic sound rivers makes for crisp and clear audio with punchy bass and balanced mids, highs, and lows.
Bluetooth 5.0 technology, supporting HSP, A2DP, HFP, and AVRCP, providing you with in-call stereo sound.
Ergonomic design language helps the user to retain the earphones inside the ears, for prolonged periods and the comfortable silicon gel tips add for even more designs plus points.
IPX8 Water Resistance means that you'll be able to enjoy your workout sessions without having to worry about sweat or spilling water over your truly wireless earbuds.
Wireless Charging supported case is an added bonus, meaning that you'll be able to pair your device with an additional wireless charger, for added convenience.
Easy one-step pairing process, which helps connect your device automatically, as soon as your device's Bluetooth is turned on, after initial pairing.
4-hour playback time with a single charge and up to 14 extra hours, from the provided charging case, which charges the TWS earbuds, while the earbuds being housed inside the case.
2. Boltune TWS Earbuds – The Feature King
Quick Overview
The Boltune TWS Wireless Earbuds are one of those budget-oriented truly wireless earbuds that packs in the best possible features, while not having to break your bank. Not only that, the Boltune's sport a minimalistic 'Airpod' type design, which will make the majority of users to pick one up, just for the sake of the Apple-like design.
Description of Features
Impressive 6mm, finely tuned, dynamic drivers with noise isolation capabilities for punchy base and acoustic-like sound quality, with clear vocals, and highs and mids, along with the ability to passively block background noise.
Bluetooth 5.0 supported with fast and stable connectivity, without any issues in frequency and transmission.
More than 40 hours of total battery life with an impressive 6-hour consecutive music playback on high volumes for an uninterrupted seamless audio listening experience.
Ergonomic Airpod-like design, providing users with extra comfort and firm grip, coupled with reduced pressure to your ears.
Dual micro-phone technology for best possible voice clarity during calls with on bOrd support for uplink noise cancellation, and passive noise isolation.
IPX8 Water Resistance providing the user with stress-free workout sessions, as the earphones are rated for sweat, dust, and water resistance.
USB Type-C supported with Quick charge technology, giving you charging times, considerably less than USB 2.0 counterparts.
3. AUKEY True Wireless Earbuds – The Budget Airpod Alternative
Quick Overview
AUKEY True Wireless Earbuds are, perhaps, the most budget-oriented Airpods alternative, reminiscing the iconic shape, while falling under 30 bucks, which is an absolute steal. The playback time is also pretty impressive, with decent overall sound quality. There's nothing to complain about here.
Description of Features
Impressive 6mm dynamic sound driver, supported by SBC audio format, providing the user with impressive overall sound quality, with clear highs and mids, and punchy and responsive bass.
On board passive noise isolation through the help of ergonomic rubber tips.
Bluetooth 5.0 enabled, supporting fast pairing and uninterrupted frequency, ensuring fast and stable connectivity.
Convenient and unique touch controls for effortless navigation of calls, and audio tracks, with simple pause, stop, next, previous, touch mechanism.
Handy voice assistant support for better functionality and added convenience. Be it Siri or Google Now, you're just one touch away to gain access to nifty and useful voice controls.
IPX4 protection allows for some level of protection from splash and sweat.
4. Anker Soundcore Liberty Air 2 – The Classy Budget TWS Earphones
Quick Overview
Anker's Soundcore Liberty Air 2 come at a price point of $99.99, just a cent short of 100 bucks; however, these TWS Earbuds are definitely worth it. Even though, these do not typically fall into the budget category, but they're worth your money, as they offer premium features, that you would usually find in truly wireless earbuds, above the $100 price point.
Description of Features
Premium Diamond Inspired drivers with unique TPU diaphragm, delivering two times more punchy bass, reducing frequency bandwidth by 15%, for an immersive acoustic-like or stage-like sound experience.
Three times clearer voice calls due to inclusion of 4 microphones with special cVc noise cancellation to eliminate background noise, as much as possible, with Qualcomm's aptX audio chip.
HearID supported software for personalized sound, which works by matching your personal hearing sensitivity at multiple frequencies, to create your own hearing-compatible EQ.
Impressive 7-hour consecutive playback time with addition 28-hours from the including Airpod case, which acts as the charging case as well, offering you 2 hours of playback, with a single charge.
Onboard Wireless Charging means that you could power up your Anker Liberty Air 2 housing case, using a wireless charger, which you'll need to get separately.
Soundcore App support for better music and overall audio experience, allowing you to make the best use of your Anker Liberty Air 2 truly wireless earbuds.
USB Type-C support is paired with fast charging technology, making these TWS Earbuds futureproof.
IPX5 water resistance allowing for protection from splashes and sweat.
5. Vislla Truly Wireless Earbuds – The Head Turners
Quick Overview
If you're on the lookout for some stylish, unique-looking, and battery powerhouse TWS earbuds that offers great sound quality, excellent battery life, and turns some heads, especially during workout sessions, then these TWS earbuds by Vislla won't disappoint.
Description of Features
Unique and sporty-looking Earhook design act as the best workout partners, providing your ears with a firm and secure grip, that won't drop off, even if you try hard.
One-step pairing process, supported with Bluetooth 5.0 for fast and seamless pairing, coupled with uninterrupted connectivity.
Unique storage + charging case design that protects and charges your TWS earbuds at the same time.
Highly impressive 8-hour consecutive playback with just a single charge, making it one of the best TWS earbuds when it comes to battery life.
Support for Hi-Fi Stereo Sound with impressive sound quality, providing you with punchy bass and clarity in audio.
IPX5 protection allows some level of water resistance, in terms of sweat and splashes.
Easy one-button control that works for different purposes like next, previous, pause, stop, and vice versa.
Stereo Binaural Calling with finely designed microphones, allowing blockage of background noise, for clear voice calls.
6. SoundPEATS Truly Wireless Earbuds – Elegant and Amazing
Quick Overview
If you're a casual user, who's simply looking to grab decent and easy to use TWS earbuds, that are quite budget-friendly and functional, at the same time, then these TWS earbuds by SoundPEATS would be the ideal option for you.
Description of Features
Bluetooth 5.0 support allows for fast and uninterrupted connectivity, with seamless pairing and efficient transmission.
Minimalistic, compact, and elegant-looking design that now supports a larger charging case, which supports 9 to 10 hour full charge for both earbuds.
High resolution decoder with advanced audio coding technology, delivering extraordinary Hi-Fi sound with lower latencies.
Support for Monaural and Binaural Calls, through two, in built microphones, providing users with better sound quality, in terms of voice calls, blocking background noise as much as possible.
Superior sound quality through onboard 6mm drivers with ambient noise cancellation capability through precise eartips.
IPX4 protection against splashes and sweat.
7. MPOW M30 TWS Earbuds – The Performers

Quick view on Walmart
Available in
: Australia, Canada, UK and US
Quick Overview
The MPOW M30 TWS are a definite treat for audiophiles. The highly popular Chinese brand is stepping up their game, with the launch of each successive TWS earbuds. We haven't dubbed these TWS earbuds as 'The Performers' without a reason. They are absolutely amazing, when it comes to sound quality.
Description of Features
Unique and high-quality drivers based on polyurethane material, making these earbuds a treat for your ears, offering excellent and balanced sound quality, in a compact form factor.
Passive noise cancellation through the selection of right ear tips.
IPX8 protection providing users with stress-free protection from water, sweat, and splashes.
Impressive overall battery life, with consistent performance, offering users with 25 hours of battery life from the charging case and 5 hours consecutive playback without the charging case.
Highly ergonomic, and unique ear-fin design with protruded subtle earhooks, allowing for the perfect and most secure fit, providing you with optimal comfort and stability. S
Support for USB Type-C with quick charge technology, having you all equipped an ready in no time.
LED battery indicator allows you to check the status of your TWS earbud's battery life, not having to overcharge.
Factors to Consider When Buying Truly Wireless Earbuds
Before we discuss individual factors, here's a blueprint for starters, to make things easy for you: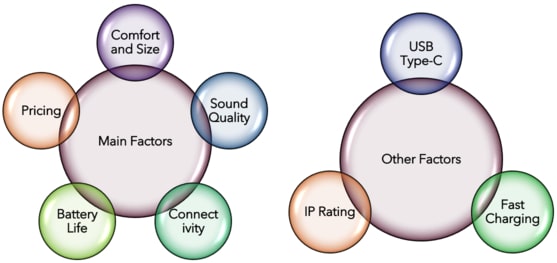 Comfort and Size
To make a wise purchase of budget friendly truly wireless earbuds prioritize comfort above anything else. With so many models available these days it can be difficult to find one that fits well enough for daily wear without causing any discomfort or slipping out of place. Our selection of affordable options focuses on providing a secure and distortion free experience while allowing easy movement during workouts or phone calls. The ergonomic design means they are perfect for everyday use without being too large or small.
Sound Quality
Sound quality is amongst the top most important factor to consider, next to size and comfortability, when it comes to truly wireless earbuds, and what we mean by sound quality is that the truly wireless earbuds should possess decent acoustics, with balanced mids, and clear highs and lows. Most budget truly wireless earbuds run by the notion, amongst majority users, that the sound quality might be inferior. Well, that's a myth which needs to be debunked. It all depends on what you're looking for, and what kind of audio chip and dynamic drivers are being used inside the budget truly wireless earbuds. Hence, we made sure to pick the budget truly wireless earbuds, featuring rich dynamic drivers and good audio chipsets, like of Qualcomm and Realtek.
Connectivity
This factor may be considered as an understatement at first glance, but it may become the main selling point of a budget truly wireless earbuds. Poor connectivity in truly wireless earbuds may prove to be extremely annoying and cumbersome, with frequent disruptions in pairing, audio delay, and voice distortion, just to name a few. Hence, connectivity is something that is highly crucial when it comes to grabbing a pair of truly wireless earbuds. We have made sure on our end that the products we mention possess fluent Bluetooth connectivity with the Bluetooth 4.0 or above, to ensure seamless pairing, connectivity, and audio, at the same time.
Battery Life
Most truly wireless earbuds brands advertise their products based on battery life alone, claiming that their truly wireless earbuds could last 8 to 10 hours straight, on consecutive playback, sporting highest volume level. Regrettably many affordable truly wireless earbuds available today fail to live up to expectations. As such one key element that shouldn't be overlooked before buying is battery life. With that said, its vital that the buds offer a bare minimum of four hours worth of non stop music playback (on high volume). Failure to take this into account can leave you feeling unsatisfied with your purchase and asking yourself why you didn't buy something better instead!We have carefully assessed the battery life of our chosen budget truly wireless earbuds, meeting the criteria of decent battery life, both in terms of playback and standby.
Pricing
Since we're covering budget-oriented truly wireless earbuds, it is important to point out that there are much cheaper truly wireless earbuds available in the market, but the dirt cheap price tag often comes at a cost. And that cost is, poor overall quality. We didn't want to include those truly wireless earbuds in our picks, which is why tried to cover popular and quality truly wireless earbuds that fall well below the range of $100.
Other Factors
Some other factors of good budget-oriented truly wireless earbuds include:
USB Type-C – Most of 2023's Truly Wireless Earbuds sport USB Type-C ports, which is now becoming the industry standard. However, when we talk budget truly wireless earbuds, some might cut back on the Type-C port to support better overall quality, in areas that matter most, like sound quality and battery life.
Fast Charging – Some budget truly wireless earbuds also offer fast charging support, which is a good feature to have, allowing you to get your truly wireless earbuds up and running in considerably lesser time, than otherwise.
IP Rating – Almost all truly wireless earbuds sport IP Rating, it only differs to what extent. IP Rating like IP5, IP6, and even up to IP8, offer sweat resistance, and splash resistance, for when you're working out, or you accidentally spill water on your truly wireless earbuds.
Noise Cancellation – While active noise cancellation in budget-oriented truly wireless earbuds is something you won't come across; however, good budget truly wireless earbuds feature passive noise cancellation or noise reduction capabilities to help reduce background noise, which is something users adore.
Conclusion
By now you must've gathered a pretty good idea about what type of budget TWS earbuds are available in the market, and what features you must look out for, when you're picking one up.
However, the features and factors we undertook have been kept under consideration, based on the majority of users. One factor might outweigh the other, for any given user. It all broils down to individual needs and preferences.
Nonetheless, we made sure to pick our products keeping the average needs in mind, and filling different unique gaps for used preferences. Hence, we kept our picks diverse enough for our users to help them find the best one, suited to different needs.
And this pretty much wraps up our buyer's guide for best budget truly wireless earbuds for 2023. We hope that you found it useful and were able to pick one up for yourself.