Within the last few years, every piece of technology is going towards compact. Our phones, televisions and electrical appliances are shrinking relative to their original counterparts. Similarly, we can observe the same trend in the camera sphere. SLR cameras were temporarily affected by compact digital cameras until Digital SLRs took back their crown. However, since the last 10 years our phones are getting more competent at taking pictures thanks to advancements in optical imaging technology. Small sensors today can produce crisp images. This is where the need for action cameras took origin.
Lightweight: Easy to carry around and handle.
Compact: Easy to travel with.
Quality: Better at recording video than your smartphone.
Ease of use: Most cameras employ a user-friendly interface,
Accessories: Can be used like normal cameras thanks to accessories.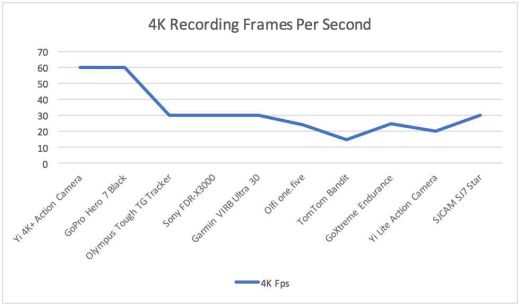 Disclosure: This post contains affiliate links. When you purchase a service or a product through the links, I sometime earn a commission, at no additional cost to you. Read my full disclosure here.
List of Best Action Cameras in [year]
1. Yi 4K+ Action Camera – More for Less.
Xiaomi [1] has been really dominating the smartphone market in Asia and Yi is one of their daughter companies. This camera has affected the market for GoPro since it provides the same features at a much cheaper price. The Yi 4K+ Action Camera is their flagship action camera product and it impresses in every way.
Design and Build
The design is minimalist. Save for the subtle checkboard design on the front, there isn't much on the body of the camera. Featuring a robust Gorilla Glass coating that safeguards its 2.19 inch rear facing touchscreen from scratches, cracks and other damage this device offers an unparalleled level of durability and long lasting performance. Its streamlined user interface has been widely lauded for being highly intuitive and responsive providing users with an unmatched digital experience.
Video Quality
The action camera houses a 12 Megapixels Sony IMX377 1/2.3 inch Exmor R sensor. Couple that with the class leading Ambarella H2 chipset, the camera produces crisp, vivid, and beautiful pictures and videos.
Features
Camera is not waterproof; only splashproof. In order to take your camera underwater, you need a separate case, in which case you cannot change the settings.

Conclusion
Other notable features include voice activated controls, USB type-C connection, live streaming, and RAW image capturing. For the price and size of the product, you are getting an excellent product. The Yi 4K+ action camera tops our list because of the sheer amount of value you get for the amount you pay for. Nevertheless, the sacrifices are not relative to the price decrease compared to the GoPro Hero 6 Black.
[1] Xiaomi Corporation is a Chinese electronics company headquartered in Beijing. Xiaomi makes and invests in smartphones, mobile apps, laptops, and related consumer electronics.
2. GoPro Hero 7 Black – The Ultimate.
It is a known fact that GoPro [2] is the market leader and pioneer in the action cameras market. What many people do not know is that GoPro as a company has been running on an annual loss lately. One of the reasons behind this slow demise can be attributed to competition – the availability of cheap and reliable substitutes. However, this does not imply that GoPro's game has weakened in the action cameras space. They still produce the best action camera that you can buy in terms of features and performance: The GoPro Hero 7 Black.
Design and Build
The Hero 7 Black has a retro design and the build and feel of this action camera are surprisingly good thanks to the rubberized finish. Unlike previous versions, this version of the GoPro black series actually comes in black color. There are two displays on the Hero 7 Black; one is on the front and the other on the back. This allows for better usability in whatever mode you are operating the camera on.
Video Quality
Performance is the part where this camera blows away its competition out of proportion. The 12 Megapixel GP1 sensor is ultra-sharp, crisp, bright, and colorful. There is hardly any other action camera that can come even close to this kind of performance. The 4K videos that this action camera produces can go up to 60 fps and are a delight to watch. GoPro has had the opportunity to tweak and experiment with a long lineup of products to produce this kind of quality.
Features
One of the most hyped about features of this iteration of the GoPro Hero is the "HyperSmooth Stabilization," which according to the company can reproduce gimbal-like stabilization. While this is obviously an exaggeration, the Hero 7 Black definitely comes close. Another exciting feature is the inclusion of stabilized time-lapse video.
The GoPro Hero 7 is waterproof and does not require a case to be so. Adding to this, a plethora of GoPro exclusive accessories enables this action camera to be the most versatile and suitable for professionals. Live streaming is also now possible directly from the camera.

Conclusion
Even though the company is facing decline, they are moving in the right direction. The asking price for this product is much lesser than their previous flagship action cameras and they are innovating at a really fast pace. The GoPro Hero 7 should be the weapon of choice for professional athletes and prosumers.
[2] GoPro, Inc. is an American technology company founded in 2002 by Nick Woodman. It manufactures eponymous action cameras and develops its own mobile apps and video-editing software.
3. Olympus Tough TG Tracker – a tough camera.
The "Tough" lineup from Olympus [3] is particularly known for its endurance focused products and the TG Tracker is no slouch either. When it comes to action cameras, the one that consistently gets hailed as the toughest is undoubtedly (camera name). But don't let that fool you – this camera is not lacking in other areas like performance or ergonomics.
Design and Build
The design of the Olympus Tough TG Tracker is iconic with its green and/or black accents and large metal screws exuding confidence. The feel in the hand is reassuring thanks to its hefty weight of 180 grams and the flip-out screen enables this small action camera to be ergonomic. Unlike most other action cameras, the lens is out on the smaller lateral side giving it a camcorder like feel.
Video Quality
The video output quality is on par with the competition yet the 14mm equivalent field of view is quite wide and starts to edge on the fisheye effect. It depends on user to user on what they prefer though. A flashlight is included to illuminate dark places and the wide aperture of f2.0 ensures that your night shots are captured perfectly. The digital 5-axis stabilization does a good job of preventing shaky footage although it leaves room for improvement.
Features
As the name 'Tracker' implies, this is more than just a simple action camera. In addition to the 1/2.3-inch CMOS sensor for video, it is packed with GPS, orientation sensor, atmospheric pressure sensor, temperature sensor and an acceleration sensor. This ensures that enthusiasts are always up to date with the data of their adventures since the data is synced with your smartphone via the app.

Conclusion
For the average consumer, the high asking price of the Olympus Tough TG Tracker might be a big turn-off. However, if you are interested in buying an action camera that will last you a long time and are willing to pay for advanced features, then this is your best bet. This camera provides quite comparable quality to its GoPro counterpart with added endurance features.
[3] Olympus Corporation is a Japanese manufacturer of optics and reprography products. Olympus was established on 12 October 1919, initially specializing in microscopes and thermometers.
4. Sony FDR-X3000 – The all-rounder.
Sony [4] has managed to do what it is best at again with the FDR-X3000; putting as much value as they can in a small package. Despite the unflattering naming that goes with some of the Sony Camcorders, this camera has managed to gain attention thanks to its performance and sheer number of features.
Design and Build
The design of the FDR-X3000 is minimalist, with a few physical tough buttons and like the Olympus Tough TG Tracker, the inclusion of lens at the smaller lateral side. When I write physical buttons, I do mean to imply that it lacks a touchscreen and a viewfinder. For many, this might be a deal breaker but a large amount of vloggers and athletes recognize that when shooting in wide angle, positioning your shots is not a big headache.
Video Quality
The performance of this camcorder is on-par, if not better, than the performance in the GoPro Hero 7 Black. Thanks to the 1/2.5-inch backside illuminated sensor and the optical image stabilization, you are guaranteed beautiful shots. The Sony Exmor R imaging helps this camcorder to produce some of the most crisp and beautiful images. An optical image stabilization means unmatched stabilization.
Features
The reason why we call this camcorder the all-rounder is because of the absolute amount of applications it has. The camcorder can switch to various different focal lengths like wide, normal, and narrow. This enables you to frame your perfect shot. Secondly, the inclusion of a 3.5mm headphone jack is a godsend for vloggers. It enables you to connect a professional mic to the camera and record cleaner audio.

Conclusion
The Sony FDR-X3000 is loaded with features that will help take your video game to the next level. However, lack of a viewfinder is a huge deal breaker for many people. You can either use your smartphone of a separately sold watch to function as a viewfinder, but that defeats the user experience.
[4] Sony Corporation is a Japanese multinational conglomerate corporation headquartered in Kōnan, Minato, Tokyo. Its diversified business includes consumer and professional electronics,
gaming
, entertainment and financial services.
5. Garmin VIRB Ultra 30 – A nice camera.
Garmin [5] is one of the most popular brands associated with the outdoor sporting market. They manufacture all sorts of tech related to this market and it is no surprise that they decided to manufacture an action camera. The Virb Ultra 30 succeeds their successful model: Virb XE.
Design and Build
This action camera is designed elegantly. The red and black accents give its exterior a character and the form factor is thoughtfully replicating the GoPro Hero. With the waterproof case, the form factor does increase quite a bit but even with this obstruction you can touch the screen and control the settings.
Video Quality
The performance is a sector where we start to see the VIRB Ultra 30 lag behind its competition. Although the 1/2.3 inch is standard relative to the competitors, the video processing and quality leave a lot to be desired. Keep in mind that this one the products in this list that was manufactured a while back and technology has been updated quite a lot in these years,
Features
One of the more popular about features of this camera is the inclusion of voice commands. Like the Hero 7 Black, it can record video, capture images, and do tons of other stuff on the verge of a simple command by saying "Okay Garmin". Apart from this, the camera can also do live streaming and direct sharing via the smartphone application.

Conclusion
For the outdoor enthusiasts and athletes already invested deeply into the Garmin ecosystem, this is a decent camera that ticks most of the boxes. However, for the ordinary consumer that want the maximum value for their investment, this is not such a desirable option.
[5] Garmin Ltd. is an American multinational technology company founded by Gary Burrell and Min Kao in 1989 in Lenexa, Kansas, United States.
6. Olfi one.five – Good things come in small packages.
Olfi made headlines when they first introduced a competent camera that could challenge GoPro's market dominion and the one.five is their second try at this market segment. This time around, they have totally ramped up their game in terms of design and user experience.
Design and Build
The design of the Olfi one.five is beautifully executed. Every detail of this small action camera has been carefully thought out to give the customers a truly unique experience. The rubberized matte finish soft touch plastics feels comfortable to hold in the hand while the class heading lightweight chassis comes in at just around 55 grams.
Video Quality
This action camera is not behind the GoPro in terms of performance either. The decision to include a Sony Exmor R Sensor has truly paid off in terms of excellent video capture quality and the gyro stabilization goes an excellent job at stabilizing the footage. There is even an option to shoot in high dynamic range mode which allows the camera to capture more of those finer details like shadows and contrast.
Features
The gyro stabilization is one of the most hyped features about this camera. It functions like a gimbal to stabilize your footage and it produces a much better result than your average stabilization. Other than that, this camera also supports flat color profiles which is a godsend for cinematographers that want to edit the footage in detail without losing much quality.
Conclusion
The Olfi one.five is an excellent camera for your everyday recording. The biggest flaw however, is its inability to record 4K at more than 24 fps. That said, for the price it is one of the best cameras that you can buy and the attention to detail in this camera makes it worth buying.
7. TomTom Bandit – barrel sized camera.
Like Garmin, TomTom [7] is another brand working in the outdoor activities market. The bandit is their first attempt at an action camera and it seems that they pulled it off successfully. This product is all about simplicity of operation and experience.
Design and Build
The design of the TomTom bandit is truly unique. Although it comes in quite hefty at 190 grams, it counters its reassuring weight through a cylindrical, barrel shaped design. The mount rotates around the chassis which ensures maximum flexibility of use. Other this this, there is a small digital screen that is not a viewfinder and is operated with buttons, much like the Sony FDR-X300.
Video Quality
Although initially impressive upon debut a few years back, the Bandit's current performance in terms of video quality isn't exactly awe-inspiring today. While it does produce relatively clear and vibrant images overall, particularly with regard to colors depicted – these somewhat redeeming qualities can't fully detract from noticeable flaws like lackluster stability support during recording sessions or a paltry maximum frame rate for its otherwise promising 4K capability (capped at just 15 fps).
Features
If you're looking for a high performing action camera then heres an outstanding feature worth considering – its charging and data transfer mechanism. This device has an in-built USB connector that allows you to charge your camera while transferring data simultaneously! And guess what? This means no more juggling between two tasks separately; now get them done together. An excellent insight by the designers indeed.

Conclusion
For those who prioritize flexibility and comfort when snapping photos or recording video the Bandit camera delivers on all fronts. With its instant speed tracking feature this gadget caters to drivers as well as bikers. And given its current cost on the market the Bandit is an absolute bargain.
TomTom NV is a Dutch company that produces traffic, navigation and mapping products.
8. GoXtreme endurance
Wondering just how affordable of an action camera is worth purchasing? The GoXtreme Endurance is the answer to your question. For those who aren't fixated on brands and are eager to experiment with an action cam this could be exactly what you need.
Design and Build
The design of the GoXtreme Endurance is uninspiring. It resembles the older models of GoPro Hero – only its uglier. The longevity of the build quality should be commended, although it must be said that you can expect to receive precisely what you've invested in. The addition of a 2 inch touchscreen at this cost is truly remarkable.
Video Quality
Although the video quality is really good for the price, the finer details, dynamic range, sharpness, and color accuracy reminiscent of fine optics are missing here. Although the company advertises this product as 4K capable, it only does so in interpolated mode. In short, this means that it isn't true 4K, but rather an upscaled 2.7K footage.
Features
A standout attribute of this camera package is how it seamlessly syncs with an array of GoPro accessories. By opting for this device you gain access to an extensive collection of add ons designed specifically for GoPro cameras to give your shoots an edge over others'. Furthermore the inclusion of a waterproof case furthers its appeal as an all rounder gadget perfect for capturing memories in any weather or terrain conditions.
Conclusion
GoXtreme Endurance is hell of a camera for the price. Are you interested in trying out outdoor filmography? Look no further than this camera which provides everything needed to begin creating footage. However if exceptional video quality is paramount or you're already an established professional in the field this model may not satisfy your requirements.
9. Yi Lite Action Camera – Back to the basics.
Sometimes, all you need is a reliable action camera that works. For those of us that want a light, simple to use, affordable and attractive looking camera for their outdoor pursuits, the Yi Lite Action camera is an attractive option.
Design and Build
Design wise, this camera surely catches attention. It comes in bright color schemes and has a very uniform and minimalist feel to it. Although the build is totally plastic, it helps the camera maintain its light weight for maximum ergonomics.
Video Quality
Video quality was not a priority while designing this product and it is apparent in the results. It is still much better than what your smartphone can record, but when we start comparing it with other rivals, its qualities start to fade away soon. This could be attributed to the use of midrange hardware instead of high end hardware which is employed in the likes of GoPro cameras. The low light performance could have been better and the camera struggles with the finer details such as shadows.
Features
Apart from the basics, this camera does not offer much in terms of additional features. There is the option of Electronic image stabilization like most other action cameras. One important point to note is that although this camera is capable of recording in 4K, the results are choppy at best thanks the recording being capped at 20 fps.
Conclusion
So for what kind of customers is this camera suitable for? Surely, the professional athletes might want to avoid this camera, but for those that just want a compact camera for traveling, this is a very capable shooter.
10. SJCAM SJ7 STAR – King of value.
As the name would suggest, SJCAM is a Chinese brand that manufactures optics. This action camera excels in one particular area above all: delivering value. For the price that you are paying, this action camera is the undisputed king of value.
Design and Build
The design is nothing to boast about. The bland design choices do little to interest the target audience. Metal is used in the manufacturing of it's frame with a rubber embedded on the front and back. . On top of all this, the action camera is exceptionally light at approximately 74 grams.
Video Quality
Performance takes a backseat in the SJCAM SJ7 STAR. Although it has all the technical bells and whistles of its more expensive counterparts, when it comes to results the camera disappoints. This is because of soft and shaky footage from the camera. The electronic stabilization does not work in 4K mode and the night time performance is below average. In the end, it depends on what we are comparing this camera to. It is not possible to replicate the quality of GoPro specifically if you are paying less than half the price.
Features
This camera, in addition to the electronic stabilization, has a lot of features. There is a touchscreen that is not as responsive as we would like but it gets the done. It does support a lot of accessories which are available for additional money but the waterproof case (up to 30 meters) comes in with the camera. The best add-on is the external microphone, which drastically improves the audio recordings.
Conclusion
For the people who want most of the GoPro experience but do not have the means to afford one, the SJCAM SJ7 STAR is the best camera that they can buy. It is packed full of features and accessories and despite the drop in quality, it produces a good result.