With the introduction of cloud storage and mainstream smartphone usage, many argue that the functionality and convenience of carrying around a conventional USB Flash drive is declining. However, Flash drives are still a very popular choice today for people like businessmen who want their data secure and on the go or the average consumer who wants a backup for their important files. In 2017, we now have flash drives that are blazing fast, affordable and much more secure to the point where they are attracting buyer's attention again. Therefore, we decided to list our top ten USB 3.0 Flash Drives that you can currently buy in 2017.
For our review purposes, we kept the following things in mind:
All the devices should be USB 3.0 compatible: USB 3.0 was announced in November 2008 and has since then exploded in popularity. The primary reason being upto 10 times faster than the previous generation, USB 2.0. Most modern computers support USB 3.0 Type A connectors today, but if you want future-proofing, we suggest looking at USB Type-C flash drives or hybrid drives.
All Devices should have good transfer speeds: What good is a flash drive if it takes too long to transfer your favorite movie file? With the standards and speeds of computers increasing exponentially, it is crucial for USB drives to keep up with the pace. Hence, in this list only the devices that provide good transfer speeds are taken into consideration. The problem with drive speed numbers is that there are many variations and everyone gets different results, so we decided on the numbers reported by the majority of reviewers.
All Devices should have a good consumer rating: Not every high performing device pleases aesthetically, neither is practicality guaranteed. Through user reviews and experience can we learn about what the people think about a product. Each of the following devices have been scrutinized for user reviews and feedbacks.
Every device should fulfill some kind of customer need: Let's face it – There are no fixed rules in life. What works for one consumer, might not be practical for another. Which is why we have included the top three contenders for their performance, the next three for their portability (a very important factor in 2017), the next three for their ridiculously good value for money, and finally a rugged USB flash drive for those who like to push the limits.
With that out of the box, lets get started with our list!
here will be a table
1. Sandisk Cruzer CZ880 Extreme PRO – Extreme Performance.
When it comes to flash drives, it doesn't get better than this. The Sandisk Cruzer CZ880 Extreme PRO is the ultimate flash drive offering not only blazing fast performance, but also extreme durability in the form of a rugged aluminum build, and great software protection in the form of military grade 128-bit AES encryption. We can safely say that it is the fastest drive of 2017 as it offers an unmatched sequential read speed of upto 420 Mb/s and sequential write speed of upto 380 Mb/s.
For those of you who don't know their numbers, these speeds are comparable to some of solid state drives existing today which are installed on only the higher grade laptops and gaming PCs. What makes this device remarkable is Sandisk's effort to extract all this power into such a small form factor. Most of us think of Micro SD cards when we see the Sandisk brand because of its popularity in that space. However, Sandisk has continued its commitment to quality and innovation and as of 2017, is offering storage devices in almost all form factors.
Coming to the outside, the device has a premium feel due to the solid aluminum construction. You can easily slide it in with your keys, but for those looking for portability, I would suggest them to look elsewhere. The reason why I say this, is because this drive is HUGE. I personally think that some tradeoffs are to be made for this performance, but for many the size may be a turn-off. Other than size and feel, this Flash Drive is slider style which ensures maximum protection when the drive is not in use and it also feels very high quality.
I would highly recommend this drive to anyone, because it is fast, reliable, secure, and rugged all in one. Keep in mind that this is a USB 3.1 device, which is a relatively newer standard. It means that to enjoy the full speeds you need a very recent and new device. If you are looking for something that is a bit more rugged, portable, or affordable, I suggest you to keep on reading.
2. Patriot Supersonic Rage 2 – Best Value!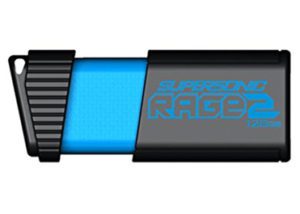 While many consumers go after popular and tested brand names, some like to take calculated risks and once in a while step across brands like Patriot. Patriot is neither the first nor the best manufacturer of high speed flash storage, where they excel is providing extremely great value for money. This is by all means, an impressive USB device.
Design wise the Patriot Supersonic Rage 2 is the smallest USB flash drive that you can buy in this price segment. In terms of build quality, don't expect too much at this price point – you'll only get a plastic body for this one. The device also has a sliding mechanism or capless design which ensures optimum safety when not in use and the safety of not getting lost. In addition to this, the body has a rubber coating housing which can really help extend the life of this drive by protecting it against spills, drops, and regular abuse. The fact that Patriot has focused on durability is remarkable and it proves the company's drive to provide the best value to their consumers.
On the performance side, this device did not disappoint us too. We are looking at sequential write speeds of upto 400 Mb/s and sequential read speeds of upto 300 Mb/s. This means that you won't have to wait for those large games to load any longer. The endurance testing revealed that the drive can handle the rigors of long term use easily, and although it does heat up quite a bit, it handles heat much better than any other drive in this segment. This is especially important because Sandisk is notorious for manufacturing devices that heat up and suffer from performance issues.
So then, if this device is so good, why isn't it at the top of our list? The first reason is the lack of any form of security encryption, as cyber security is becoming an issue of global importance. Secondly, we would like to see better 4K read/write performance. For those who don't know, it is the speed at which the drive can access small blocks of data from random locations – lower 4K performance means the drive isn't great for things such as hosting complete operating systems.
This device gets a solid recommendation from us because of its great performance, value, and portability. Although the drive scores really low on the 4K read/write benchmark but don't worry, it will handle day to day use such as watching movies, playing games, and copying large files flawlessly. Even customers from Amazon are really satisfied with the device and posting positive reviews.
3. PNY PRO Elite – Maximum Capacity.
The PNY PRO Elite is one of those devices which you see on your friend's laptop and immediately fall in love with. PNY has been known for their quality products at affordable prices and this offering is no different.
Although some may argue that beauty is subjective, many people have fallen in love with the design of this USB Flash Drive. There is something about this one, something uniquely beautiful and elegant about this premium gunmetal finish that other drives are definitely missing. The size is also surprisingly compact and it doesn't block adjacent USB ports like the Sandisk device above.
Holding the PNY PRO Elite in your hands is very reassuring, thanks to the heavy weight and high quality metal housing. The capless design ensures that your files are safe when you aren't using the drive, and you can easily slide it in with your keys and forget about it thanks to the portability.
Coming to the performance side, things are also looking optimistic here. Among the high performance class that we have reviewed, this is the only one that boasts 512GB of maximum capacity. This is actually very impressive, considering that you can have half a terabyte of very high performance storage in your palm and on the go. This is why this drive has been a favorite among content creators and photographers.
Sequential read speeds can reach upto 400 Mb/s and write speeds upto 180 Mb/s. While the read speeds are up to the competition, this drive is far behind on the write speeds. Don't get me wrong – 180 Mb/s is a very impressive speed; however, the Patriot and Sandisk drives are far ahead in this game. The 4K random speeds are looking better than the Patriot drive. Apart from this, the performance is consistent any without any major issues.
So then, who is this device for? People who like a classy, professional design drive that offers an amazing amount of storage in a very small package will surely appreciate this one. For the normal consumer, the price is also attractive.
The three devices that we will now look upon are very compact. In fact, you could just plug them in your device and forget about them. In 2017, all our devices have shrunk and USB Flash Drives have to keep up with new standards. Luckily, all the major manufacturers have already jumped into the game, and you can see some of the best devices below!
4. Samsung Drive Fit – Small size, big performance.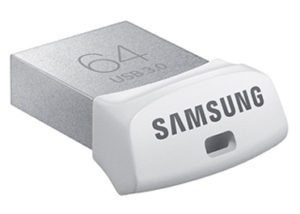 Now here is a brand that is likely to be recognized by everyone – Samsung. The drive fit has got a lot to prove in the brutally competitive world of flash drives, and we are glad to inform you that it rightfully does.
The design of the Samsung Drive Fit is absolutely fantastic. This is as small USB flash drives get in 2017 without sacrificing much on the performance. The ergonomic architecture of this flash drive ensures that you can easily grip it in and out of the USB port without hassle while the small form factor flushes it into your device and goes incognito. It even has a lanyard hole to hang it with something, just don't expect to slide it in with your keys because the hole isn't big enough.
We have mixed feelings about the build quality of this one. Although the body is made out of plastic, it is a good quality one. We are not quite sure why Samsung calls it a 'metal-based design' though. Where this device shines is its ruggedness; it is water proof, shock proof, temperature proof, magnetic proof, and X-ray proof. While it may seem impressive – and it is – the only reason Samsung can make these claims is because they have a brand image to back it, as opposed to small manufacturers.
When USB Flash Drives have to me made this compact, some compromises have to be made. One of such compromises is performance. While a sequential read speed of upto 130 Mb/s and sequential write speeds of upto 90 Mb/s don't appear to be as impressive, this is as good as it gets in this form factor. The performance seemed to be consistent and although the device did heat up after long use, it did not face overheating issues like that of Sandisk Ultra Fit Drive.
This drive is a heavy recommendation from us if you want a flash drive that easy becomes invisible once you plug it in your laptop or PC. Kudos to Samsung on this one, largely because it is not only the cheapest in the range, but also very rugged and has the best write speeds.
5. PNY Elite-X Fit – Incognito drive.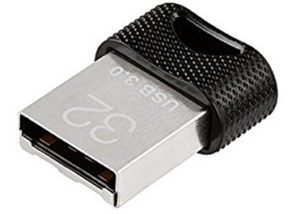 The Elite series from PNY is excellent in terms of speed, build quality and design. The Elite-X Pro is one of those devices which has proven its mark in the industry. With the professional design and exceptional build quality comes groundbreaking performance and reliability in this small package.
The best part about the design of this USB Flash Drive is the ease with which it blends into the laptop or PC in which you plug it in. The design is what some of us would call 'minimalistic'. The body is made out of plastic and although it as not very large, it is bigger than any other small form factor USB Flash Drive out there. Ergonomically speaking, the body is rough and curved, which makes it extremely easy to pull out of a USB port compared to the competition.
There is a lanyard hole for you to tie it and it is big enough to be able to slide in a keyring, which might be a big plus for some buyers. The Flash Drive comes with a transparent cap for protection although it might get lost over time.
Speaking of performance, the device has excellent read speeds in the category, with sequential speeds of upto 200 Mb/s. This is really impressive and beats even some of the bigger flash drives for its price. Where it noticeably lacks are the read speeds, which reach just about 45 Mb/s.
So then, who can benefit the most from this device? Someone who is looking for a USB Flash Drive than can easy blend in, can play 4K movies and games, and can do all this without breaking the bank. Buyers who want to keep backups, edit files, and record directly on it should look elsewhere.
6. Lexar Jumpdrive S45 – Drive that stands out.
Lexar is a Micron company, a very experienced manufacturer in the name of system memory. The Lexar Jumpdrive S45 will surely attract a lot of attention, thanks to its very bright colorful LED and bright colors, but its small size is meant to do quite the opposite.
The design of the Lexar Jumpdrive S45 will not appeal every audience, and one might expect the target audience to be millennials. Compared to the Drive Fit, this one has a boxy design instead of ergonomical. There are three color choices available; blue for 32gb, teal for 64gb, and black for 128gb. The highlighting design element is the big status LED indicator, which some people have said to be 'room-illuminating'.
The Lexar Jumdrive S45 boasts sequential read speeds of upto 150 Mb/s and sequential write speeds of upto 45 Mb/s. While it is ahead in the game for read speeds from the drive Fit, it lags notoriously behind in the write speeds. In fact, it is one of the slowest drive in terms of sequential write speeds in this list. So before deciding to buy this, make sure you understand the demerits of slow writing speeds.
We recommend this device to anyone who wants a very compact device with a flashy lights. However, for the extreme performance enthusiast, this might not cut it. The best thing about this device is the 256-bit AES encryption which makes sure your data is safe from hackers or unwanted programs and viruses.
The next three devices on the list are budget oriented ones. In 2017, many customers are making more rational buying decisions than ever before; looking for the best value that their money can buy. Below are the devices that we think can satisfy your wants in the lowest price possible.
7. PNY Turbo – Turbo power.
This being the third PNY USB flash drive in the review means that PNY really know what they are doing. While you won't be impressing anyone with the design of this one, we think that the value this device provides is extremely incredible for the money.
Let's say it this way – the PNY Turbo isn't getting any awards for its design. The plastic build quality is nothing to brag about, and the bloated design looks bulky. In defense of PNY, I would say that aesthetics weren't their primary focus in this device; they have plenty of pretty looking drives for other price points.
There isn't a lanyard hole for you to attach the drive to anything. Plus, the sliding mechanism is pretty loose and sloppy. The plastic feels pretty cheap in the hand and this device is generally well known for its average build quality.
The sequential read speeds are upto 190 Mb/s and sequential write speeds clock upto 130 Mb/s. These speeds are quite impressive considering the price. The performance is also consistent across all tests – except for the 4K random write performance. What this means is you have to consider another drive if you want an operating system to work efficiently on this one. Other than this, the device has not had any major issues yet.
The PNY Turbo is for the consumer that wants the best price to performance ratio and nothing else. For that kind of consumer, we recommend the Patriot Supersonic Rage 2 instead for a small price increase. However, the PNY Turbo itself is also a very capable device and doesn't fail to impress.
8. Samsung USB 3.0 Bar – Alien design.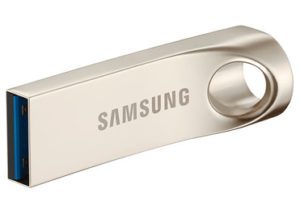 This is another hit product from Samsung, the USB 3.0 Bar. What looks like an alien piece of technology not only performs amazingly, but also boasts great build quality and comes at a great price.
The design of the Samsung USB 3.0 Bar is very unique; it has a unibody metal construction and an elegant champagne color. The device is so aesthetically pleasing that many have bought this device specifically for its striking looks. The slim profile and lightweight construction remind us that who other than Samsung can create this.
The keyhole is very big, which means you can easily slide this one in a keyring. With the merits of having a metal body come the demerits, such as being a fingerprint magnet and being slippery. In addition to all this, the drive is also water proof, shock proof, temp proof, magnetic proof, and X-Ray proof like the drive fit. This USB flash drive doesn't have a cap or any protection though.
So far the device has done well, and performance holds the same record. While the sequential read speeds of upto 130 Mb/s and sequential write speeds of upto 90 Mb/s might not sound impressive, the device managed to perform consistently. The 4K random read/write speeds are acceptable, the device does not heat up, and the device delivers on all fronts.
So who is this device for? The average consumer. This is what Samsung is best at, producing best devices for mass consumption. The Samsung USB 3.0 Bar fulfills everyone's needs; it's cheap, stylish, convenient, and fast.
9. Kingston Datatraveler SE9 G2 – Beautiful Design.
It is saddening to see that Kingston – which used to be the undisputed leader in flash drives a few years back – is in such a position in 2017. This serves to prove the point that manufacturers need to keep up with the market changes otherwise their market share could drastically decrease.
The Kingston Datatravel SE9 G2 is the successor to the original USB 2.0 SE9, a wildly successful drive that is even available today. This iteration of this flash drive is slimmer and longer. It features the same champagne colored unibody metal design as the Samsung USB 3.0 Bar drive, but it is even smaller. The seamless design flushes easily into a USB port and becomes a part of your device. Again, this is a very beautifully designed drive with exceptional build quality. While there are no claims from Kingston about the durability of this one, most of their devices have held reputation for the longevity and this one is no exception.
The key hole is also quite big, and unlike the USB 3.0 Bar, isn't obtrusive. The capless design means that you won't have to worry about losing the cap, but also means there won't be any protection for the exposed connector.
The Kingston Datatraveler SE9 G2 takes a deep dive in performance benchmarks. While the sequential read speeds of upto 100 Mb/s don't sound too bad, the sequential write speeds are terrible at 15 Mb/s. These write speeds are comparable to some of the USB 2.0 Flash drives. The customer service has said in its defense to complaining customers that this is an entry level device, but this is 2017 and most people want the best for their money. The 4K random write performance is terrible too, if you are wondering.
While the performance of this drive isn't very impressive, it comes at a good price and has great build quality and design. We recommend this flash drive for those who like Kingston drives and don't think fast performance is imperative in flash drives.
10. Corsair Flash Survivor Stealth – Rugged Drive.
For some of us, the device should be no less than rugged to be considered. Thankfully, a number of brands manufacture these kind of devices and Corsair Flash Survivor Stealth seems to be one of the best available. Corsair is one of the most reputable computer memory manufacturer and this offering from them is no different than their other great products.
This USB Flash Drive screams military grade all over. It has a 'hard-anodized, aircraft-grade aluminum housing', an 'EPDM water seal', and a 'molded shock dampening collar'. It's waterproof to an amazing 200 meters, vibration resistant, and shock resistant.
However, these options come at a sacrifice. First of all, this drive is huge at 70mm long. Then there is the aluminum housing, which is enclosed by two rubber seals; both have to be taken off to use this flash drive. Then there is the fact that this device is as vulnerable as any other USB Flash Drive without the housing and seals, which can easily get lost.
The differentiating factor for this rugged flash drive is its amazing performance. With sequential read speeds of upto 100 Mb/s and sequential write speeds of 75 Mb/s, this device is way ahead of the competition. The 4K random read/write performance isn't very terrible and there haven't been any major complaints about this device yet.
The Corsair Flash Survivor Stealth is an amazing drive, and it has been on the market for quite some time (there as reviews dating as back as 2008 for a previous version). With the reputation of Corsair, one cannot go wrong. We strongly recommend this for those looking for a very rugged drive.
---
These devices were our top picks for the best USB flash drives that you can buy in 2017 and we tried our best to cover every consumer need with these reviews. One last thing to keep in mind is that USB 3.0 flash drives will only work on their advertised speeds on a USB 3.0 port, make sure your device has one. If your device has a blue colored port or a port labeled 'SS' for SuperSpeed, then go ahead and buy these devices, otherwise buy much cheaper USB 2.0 drives.