From being a physical sport to one that can be played from any seat or sofa – gaming has seen dramatic changes over recent years due to advanced technology. In the late '90s and early '00s especially there was an upsurge in demand for gaming gadgets that took everyone by surprise. Thus, gaming consoles increased in competitiveness to a point, that you could play FIFATM whilst standing on a two-square-yard space in facing opponents on an LED screen, as an alternative to playing on a full-sized soccer field, which is far less convenient.
Why Gaming Laptops Then?
Although gaming consoles with their colossal build quality and out of the world gaming experience, quickly rose in popularity, folks gradually became skeptical: they had to spend a fortune on a device that was solely for gaming. That's when gaming desktops and ultimately laptops gained following, and emerged as a new trend.
Comparison of best available gaming laptop and console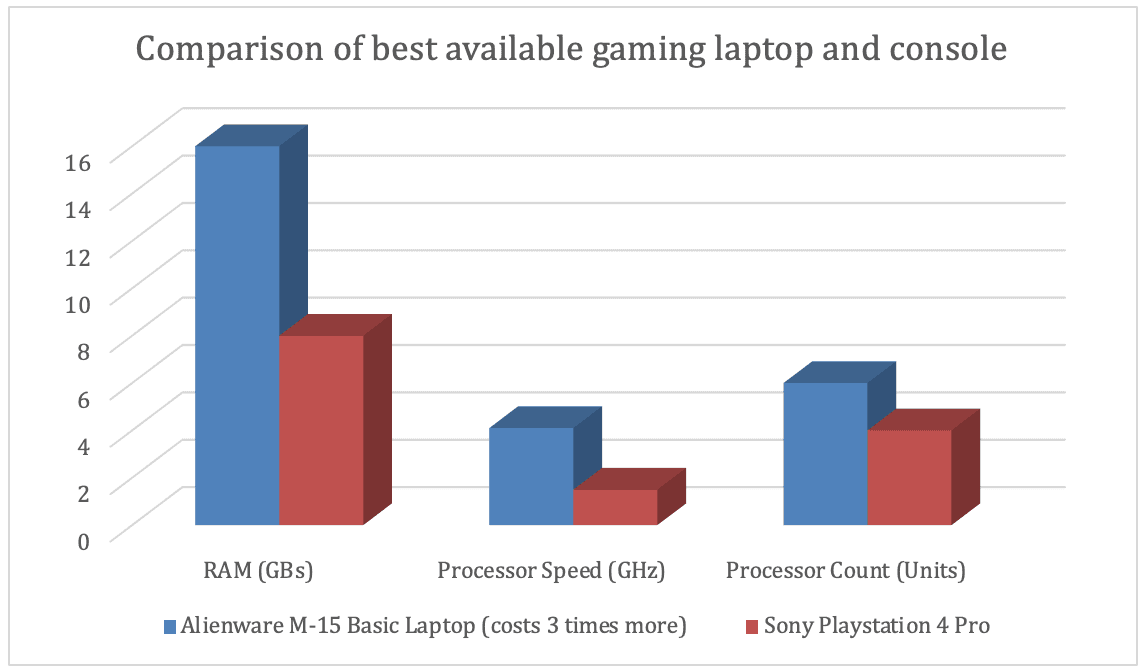 Gaming laptops have been able to outrun gaming consoles in terms of specifications. But yes, you would have to spend several extra bucks to get the best available gaming laptop in US. Unable to do that? Do not worry, as we are here to show you the best gaming laptops you could buy under $1000, without compromising much on aesthetics!
Advantages gaming laptops enjoy over consoles include:
Portability: Mostly a one-piece setup which is easy to carry around.
Customization: Easier to improve gaming experience (Graphics etc.)
Beyond Gaming: Your very own Ultra-Fast PC.
Now, let's compare our top under $1000 picks, using features that matter the most to gamers, or even professionals who crave for a seamless video editing experience, for example. The following table does just that:
Disclosure: This post contains affiliate links. When you purchase a service or a product through the links, I sometime earn a commission, at no additional cost to you. Read my full disclosure here.
List of Best Gaming Laptops under $1000 in 2023
| | | | | | |
| --- | --- | --- | --- | --- | --- |
| Product Name | Processor Count | Total Mass | Graphics | Hard Drive | Prices |
| Dell G5 15 5587 | 6 | 6.28 lbs | NVIDIA GeForce GTX 1050 TI | 128GB SSD + 1TB HDD | View Deal |
| Acer Predator Helios 300 | 6 | 5.51 lbs | NVIDIA GeForce GTX 1060 | 128GB SSD | View Deal |
| Lenovo Legion Y520 | 4 | 5.29 lbs | NVIDIA GeForce GTX 1060 | 512GB SSD | View Deal |
| HP Omen 15 Gaming | 6 | 5 lbs | NVIDIA GeForce GTX 1050 Ti | 1TB HDD | View Deal |
| MSI GF63 Gaming | 6 | 4.1 lbs | NVIDIA GeForce GTX 1050 4GB | 512GB SSD | View Deal |
Disclosure: VRLegends may get a share of the sale revenue from the products highlighted on this page. The order of these products are placed does not necessarily reflect their real rankings.
1. Dell G5 15 5587 Gaming – One for All
Initial Impressions
Dell has undoubtedly been the pioneer of laptops. The company has existed since long. Thus, they have vast experience in terms of designing laptops that directly address the needs of its users.
Design & Build Quality
Starting with its Build, its body is made up of Aluminum, giving a solid look to the unit. Also, this material somewhat helps in heat dissipation, instead of plastic, which stops radiation and increases risk of damage to the internal components. But metal, coupled with its 0.98 Inch thickness and 6.28 lbs. mass, gives a bulky impression to the otherwise intelligent machine, decreasing portability.
It houses a front facing camera that is situated between the top Bezel. Such placement would ensure a front-facing view in the camera results, making you look confident. It has an elegant keyboard design with aptly spaced keys aiming to give an ergonomic typing experience, although the red-print-variant with no backlighting does hinder print visibility, making it difficult to search for keys. Besides, the mouse pad is complex and difficult to operate.
Display
Coming to the screen, an IPS Panel with a 1080p resolution. It's much better as compared to TN and VA technologies, providing more accurate colors. However, the detail lacks due to a narrower color gamut. Also, coupled with the absence of G-Sync technology, the IPS display provides lower refresh rates, and a phenomenon known as screen tearing. Plus, minor backlight bleeding issue has been noticed. And although the screen allows acute vertical-angled viewing, colors do seem to fade when you don't face the screen head-on.
Graphics Hardware & Gaming Experience
As far as the gaming experience is concerned, dell offers you NVIDIA GeForce GTX 1050 Graphics, which are a little low as compared to other mid-range laptops, but still provides unnoticeable lag, thanks to 1060 Max-Q engineering. It hosts speakers that provide crystal audio output, but bass is something that can be worked upon. And although 128GB SSD Drive does provide fairly fast speeds, absence of an NMVe input does make the difference in speeds noticeable when placed side-by-side other brands.
Verdict
Overall, the G5 15 seems to be a good prospect, giving you durability, and commendable specs packed in a handy product. Its 56Wh Lithium battery does beat majority of laptops in this price spectrum, lasting 1h 37min on heavy gaming. Thus, if you are a businessperson who has to face a lot of travelling, or a mediocre gamer and you are looking to buy a solid, durable laptop, which has a reliable battery and fair amount of portability, then this bad boy is a bargain worth it. But Dell still must be all-ears to the needs of its loyal customer, as most gamers have no problem whatsoever in keeping their laptops power-connected while gaming. And the design still lacks appeal. Plus, the absence of ultrafast processing, coupled with a not-so-light-weight structure makes people interested in some crazy gaming consider other options.
2. Acer Predator Helios 300 – Mister Cool
Initial Impressions
The laptop about which we are going to talk now is the product of a company that cannot be categorized to be the most popular of the lot. But that doesn't mean that they have been left behind with respect to their products. Thus, ladies and gentlemen, I present you a machine with an impact – Acer Predator.
Design & Build Quality
It has been commonly referred to as The Beast – and rightly so – due to its design. With two red lines running through metal its lid, and the predator logo on top, it gives a classy look. Also, the keyboard and mouse pads on the plastic body have a nice rubbery finish, although mouse precision could have been better. But the price one has to pay for such a structure is the weight – it stands at around 6 pounds. Thus, not something you would like to carry every day to school.
Display
Now the display has been largely improved from last year, hitting 144 cycles per second on gameplay, thus a dream come true for gaming enthusiasts. Also, it shows sRGB rating of 98%, particularly appealing to creators. Although it still lacks G Sync, but the engineering doesn't let you feel its absence.
With regards to sound, we can say that Acer has done a fair job. Comparing with the Lenovo Legion Y520, this dual speaker device does provide louder sounds. But they could have been improved, as they become a lot less crisp on intensity-highs. Thus, the usage of headphones is still recommended for long play sessions to maximize comfort.
Graphics Hardware & Gaming Experience
The Acer Predator 300 does give us some confidence to declare that the creators have done a good job. The powerful configuration includes a lightning fast quad core processor clocked at 4.1 GHz speed and hexa cores that guarantee seamless performance throughout intensive game sessions. Throw in an NVIDIA GeForce GTX 1060 graphics card and a whopping capacity of 256 GB NMVe SSD storage – you have got yourself an unbeatable combination for spectacular visuals at full HD resolution (1080p). In case some users face overheating issues due to prolonged usage we recommend using reliable cooling pads as a quick fix.And thermal throttling can be kept in check by not letting the system control fan speeds, and manually setting them to max. This almost eliminates issues with varying fps.
Some Issues to Point out
Over Heating has remained a concern. The GPU and CPU are connected to the same heating pipes, leading to bad heat dissipation. This causes the keyboard to heat up – not something your fingertips would love. Also, bad power management leads to lower energy efficiency, draining the already small 48Wh Lithium battery within 3 hours on minimal usage. Besides, thermal throttling occurs, leading to noticeable drops in frame rates.
Verdict
If you are looking for a laptop that provides you immersive gaming using super-fast processing or are a creator looking for the most accurate color vibrancy, then this is the product you want to get hold of within the price range.
3. Lenovo Legion Y520 – Feel Greatness
Initial Impressions
The Lenovo Legion series never seems to disappoint and lives up to its name of providing us with stellar gaming laptops, with an overall balanced approach towards aesthetics and performance. The Legion series itself sets itself apart from the competition in several ways, ranging from the build quality to the overall performance.
Design & Build Quality
Talking about build quality, Lenovo never seems to disappoint. The new Lenovo legion Y520 is one the best (if not the best), in terms of how Lenovo has spared thought in choosing the material to manufacture this engine. From its Aluminum Matte lid to an extremely durable plastic keyboard pane, this thing's worth the attention. The top contains a unique crosshatch pattern with a red, Tri-Star embedded in between. Although that may allow dust to settle, but that can be cleaned, and is a small price you pay for the stylish design, which I did like a lot. And the matte finish might allow fingerprint smudges, but that doesn't pose a problem to a good hands-on experience in any way.
Storage and Other Aesthetics
The keyboard design is likeable, particularly due to the RGB backlighting setup it provides. That's a step ahead from other laptops in this price point, which provide a fixed colored light, if they do provide backlighting at all. And talking about customizability, the ease of access to the RAM and Storage spaces allows you to conveniently upgrade them, although the existing 16 GB RAM and 512 SSD don't require you to do so unless you badly want to improve performance and need a ton of space, as an SD card slot is absent.
Sound Quality: A Bonus!
Something that's worth the raise are its speakers. Its front-facing dual speakers, accompanied with a woofer dome in the middle work together to provide you the best possible loudness and bass-boost one could imagine in such cost, in normal conditions. Raising the Decibels, the speakers happen to get loud, even diminishing the need for a headset. Although that does happen at the cost of lowered sound quality and increased distortion, you don't normally need to get that high.
Cooling System & Heat Dissipation
But the aspect that really puts it in the lead is its cooling system. At normal usage, the fans do a great job at keeping temperatures low with unnoticeable noise. And for heavy gaming, you are provided with an extreme mode, allowing you to keep the system cool, regardless. Although you would have to bear with a lot of noise, this feature isn't even needed unless your room lacks air conditioning. To accompany the claim, I would like to mention that the system was able to keep temperatures low even when faced with severe stress tests.
Battery Life & Weight Distribution
Even the battery lasts longer than other laptops. Its L-shaped, 60Wh power source has been designed to provide you with up-to 4 hours of screen on time. Although you might need to plug-in for longer gaming plans, but the battery can be relied upon for occasional charging-void sittings.
Coming to the weaker side, its size is something that tops the list. Weighing about 5.3 pounds, doesn't seem ideal to be carried around. Also, it has an IPS 1080p screen resolution just like others, but it's not bright. Although that's a consequence of the matte anti-glare coating, which can be peeled off easily using, let's say, a hair dryer, you would have to bear with light reflection, which gets really annoying sometimes.
Graphics Hardware and Gaming Performance
All-inclusive, Lenovo has been able to offer you a GTX 1060, providing attractive gaming on a 1080p resolution. It has been able to offer a decent battery life too. But the hefty setup makes you sacrifice portability. And the screen doesn't offer you much. While some may find it concerning that this machine doesn't come with the highest quality LED display option available others may appreciate its distinctive look and feel. If you fall into that latter category – specifically someone whos open to experimenting with different displays hooked up through the Thunder Bolt 3 port – plus needing dependable battery life – then investing in this product could be a smart move.
4. HP Omen 15 – Experience Majesty
Initial Impressions
Behold, the glorious Omen by HP is here! We present you the Omen of entertainment: the all-new HP Omen 15. And, unlike the previous models that contained major factors of concern, this one is seems good news, fingers crossed.
Unboxing Experience and overall Design
Upon unboxing, we are greeted with a classic red face and a big red X.
Plus, the lid surface has an alternate cross-hatched and plain design. Personally, the design does appeal to me, considering that they have redesigned this product. Plus, the mix of carbon fiber, aluminum and plastic does give it a quite sturdy look, and it is, in essence, durable.
The Aluminum keyboard deck has a really nice feeling to it. Plus, the keys are aptly spaced. Similar to Lenovo Legion Y520, the keys have a nice RGB backlighting setup, improving visibility and adding to its appeal. Also, the mouse pad provides decent accuracy with regards to the movement of the pointer on-screen.
Display & Battery Life
Keeping others side-by-side, this laptop has a really impressive battery, with 70Wh of energy. Upon testing, it lasted about 4hours 30min. Although that's not much, it's still better than almost all others. To be powered by such energy, we have an IPS FHD panel with ultra-thin bezels unlike last time. It has great color detail and provides 120+ fps on most games, thanks to the inclusion of G-Sync. It was something that had been missing in the rest of the laptops. It greatly reduced screen tearing, and certainly placed HP Omen well in front of others.
Graphics Hardware & Gaming Experience
Th Omen offers a great gaming experience, credits to GTX 1050TI and 12 GBs of RAM. But the usage of G Sync has taken the frame rate stability to a whole new level. Although it does weigh about 5 pounds still, the compact chassis design allows us to carry it to school, office or wherever we please. This feature makes it the most portable one out of the whole lot. Trust me, difficulties in transportation is the last thing this majesty gives you.
5. MSI GF63 Gaming – The King of Portability
Initial Impressions
When it comes to gaming, MSI is one of the few brands that immediately come to mind, thanks to its ability to create decent, portable gaming accessories. And that's exactly what they've done with this one, too.
Design & Build Quality
Now MSI has done a decent job with regards to the design of this laptop. It doesn't seem to be something tasteless. The brushes aluminum surface with the MSI logo in between gives a nice feeling of simplicity, which is pleasing. And although the bottom is made from plastic, the deck is metal, keeping the supposed material flow intact through the lid.
Besides, there are a few more sacrifices that one would have to give on order to receive other perks in terms of portability and price. Starting with the keyboard, it undergoes extreme levels of flex, making keying hell of a lot difficult, making one feel like poking Winnie the Pooh's tummy, diminishing control to a great extent. There's a short key travel distance, and as you'd expect, no RGB lighting is offered.
Graphics Hardware & Gaming Experience
Coming to its performance, you are offered a GTX 1050Ti Max-Q GPU, that falls somewhere between a full sized 1050Ti, and a 1050. Thus, frame rates drop. This, grouped with an absence of a faster SSD, force you to stick mostly to medium settings to keep games running smoothly. And the IPS panel offers you a maximum of 60 fps only, thus there is nothing more you could expect. And lower color contrasts don't let you get too creative.
Weight Distribution & Cooling/ Heat Dissipation
But what comes as a pleasant surprise is that it weighs only about 4.1 pounds. And it has a relatively small structure, with a width even lesser than an inch. Although they had to sacrifice upon its cooling to make the laptop compact, with 3 heating pipes and a single fan, the system was able to keep temperatures low even when the system was heavily loaded. It did cause some thermal throttling, but that didn't lower frame rates to a great extent. And the best thing this simplistic cooling structure did was to reduce noise. Even when stressed, it was not even close to the noise that Acer Predator 300 and HP Omen 15 cause.
Compromises
MSI had to compromise a little on performance and the physical peripherals (No numeric keypad on the keyboard). But everything comes off a price. And they have been successful in offering a product which offers the public extreme portability. And although that's done at the expense of performance too, you could swap its existing hard drive with an m2 NVME and pack on more RAM, boosting speeds to all new levels, while making your pockets only a couple hundred dollar lighter.
Verdict
This master of portability appeals highly to students, who want to carry a laptop all day long while enjoying occasional gaming and stressing not too much on graphics. If these details define you, trust me. Don't wait.