Laptops have surely come a long way, and in the last few years the trend has been in favor of thinner and lighter laptops. This inevitably means that cooling is a big problem for modern laptops. We all have been there, you are on the verge of submitting an important assignment, the fan is spinning at full speeds, the battery is draining fast, and the laptop is frying your lap hard; this happens to the best of us, and the anxiety is real.
Well, laptop cooling pads are here for the rescue. Where modern laptops fail to deliver on cooling performance, some aftermarket solutions come in handy. Read on to find out more about what we think are the best laptop cooler's you can buy as of late 2023. But before we start, let's clear some important details:
Only buy a laptop cooling pad if you really need it. While we do not favor any brands, Apple MacBook, Dell XPS, and HP Spectre series are well known for their adequate cooling solutions. Also, if you have a gaming laptop, you may or may not need a cooler. For example, users with Dell Alienware laptops report less gains as compared to other brands. Therefore, we advise you to be sure whether you really need an external solution.
Make sure the laptop cooling pad you buy supports your laptop size. Most Cooler's are compatible with laptops ranging between a screen size of 11 inches all the way to 17 or 19 inches.
Laptop cooling pads have started to come in different shapes and sizes recently. We have listed the ones that are the most effective. These can include cooling pads, turbines, or vacuum solutions. This will help you make the right choice between convenience, portability, and performance.
You should definitely get a cooler if your laptop gets considerably warm to the touch since excessive heat can damage your laptop's internal components and mechanical hard drives are often a very soft target.
Disclosure: This post contains affiliate links. When you purchase a service or a product through the links, I sometime earn a commission, at no additional cost to you. Read my full disclosure here.
With that out of the way, let's get started.
Best Laptop Cooler & Cooling Pad 2023
| | | | |
| --- | --- | --- | --- |
| Product Name | Laptop Size | No. of Fans | Prices |
| Opolar LC-06 | All Sizes | – | How much? |
| Havit Slim HV-F2056 | 15.6″-17″ | 3 | How much? |
| Tree New Bee TNB-K0025 | 15.6″-17″ | 4 | How much? |
| Kootek Chill Pad Mat | 12″-17″ | 5 | How much? |
| Thermaltake Massive V20 | 10″-17″ | 1 | How much? |
| KLIM Wind Laptop Cooling Pad | 11″-19″ | 4 | How much? |
1. Opolar LC-06 – Revolutionary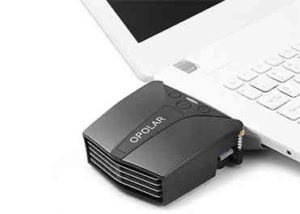 Quick view on Opolar
Available in
: Australia, Canada, UK and US
Quick Overview
Most of the laptop cooling solutions in market take the form of a large cooling pad which uses a USB-powered fan to blow air into your laptop. The Opolar LC-06 is revolutionary since it does the exact opposite – suck hot air from your laptop. It attaches to the side vent of your device using an adhesive pad which sticks to the bottom of your device. The vents are enclosed by a silicone rubber sealing along with arms equipped with a spring loaded mechanism that attach to the side of your laptop. There is even a dust filter to prevent accumulated dust from your device to be inhaled by the cooler. In short, the attention to details are big on this small cooler.
The glossy black finish with silver accents is not the best design we have seen and the build quality isn't superb considering it's made out of plastic but you get what you pay for. The cooler is powered via a standard type-A USB port. With the latest LC-06 version, Opolar has included a temperature display that reads the air temperature from the laptop vent. They also claim to have included a 'scratch-resistant surface' and more compatibility.
The performance on this one is great. You can operate this on the automatic mode which automatically selects the optimum speed or use the manual mode which gives you the freedom to operate on 13 different speeds. By sucking out the hot air from your laptop's internals, this cooler's works in conjunction with your laptop's exhaust fan and greatly aids the heat dissipation.
Speaking of compatibility, this is a big problem with this cooler. Since many new laptops specially ultrabooks in 2017 are being manufactured with bottom vents only, this cooler is limited to a specific market segment. So then, the Opolar LC-06 is excellent for those who are looking for exceptional value and great performance in a very portable package. The only downside is it only supports laptops with side vents or in some cases, back vents too.
2. Havit F2056 Slim Laptop Cooling Pad – Universal
Quick Overview
There is a reason why Havit cooler is the most popular and at the top of amazon bestsellers: it is best at what it does. This cooler is universal, supporting a wide array of devices differing in screen sizes and thickness. A total of three 110mm mans are placed strategically to maximize airflow and compatibility.
The build quality is very solid on this one. Your laptop rests on a metal mesh grille which is sturdy and lightweight. The metal mesh also helps in distributing the heat evenly on the pad allowing for better thermal management.  The design is very stealthy and the matte black look appeals to a wider audience of professionals, content creators, and gamers. There is one flaw that really bogs the package down, and that would be the inability to control the blue accent lighting which illuminates the fans. The lighting becomes obtrusive in dark areas or corporate workplaces.
Other highlighting features include a very lightweight construction at 1.6lbs, very thin chassis at 1 inch, and an ergonomic design. In fact, this is one of the few cooler's that does not sacrifice on build quality over portability. While this is nowhere near as portable as vacuum cooler's like the Opolar LC-06 get, this is as good as a decent performing cooling pad gets.
Performance is rock solid on this one. With three 110mm fans spinning around 1100rpm, you can expect it to handle everything you throw at it very well. Most people believe that the larger the fan, the louder it is; it's quite the opposite in reality. The cooler barely makes any audible noise at low speeds and a very subtle humming at high speeds.
While it is not the flashiest, cheapest, or most feature-packed option, the Havit F2056 Slim Laptop Cooling Pad still manages to get solid reviews. And no, the metal mesh does not transform into a cooking grille since the heat management is on point. They have included an extra USB 2.0 port for compensating for the port this cooler occupies on your laptop, but don't expect it to support devices which need heavy electric output.
So who is this for then? People who are looking for reliability, build quality, and portability. Essentially, the Havit F2056 Slim cooling pad is a safe bet since it is the most compatible, and this is why we honor it with the title of 'universal'. For those who are willing to push it to the extreme, we would recommend them to consider the next cooler.
Read HAVIT F2056 VS F2073 comparison
3. Tree New Bee Cooling Pad – Bee Cool!
Quick Overview
While the Havit Slim Cooling Pad uses a minimalist design, the Tree New Bee Cooling Pad takes the opposite approach by a more extreme one. This product comes really close to the reliability of the Havit cooler and is another Amazon bestseller.
With a logo that portrays an angry bee staring directly at you, and a design that can only be attributed to the laptop gaming enthusiast audience, one is definitely convinced that this is targeted at the young audience. The blue accent lighting coupled with sharp corners and angular cuts gives this cooling pad a unique look. Plus, it's not too thick at 1.14 inches. The matte black mesh grille is something we have seen on the Havit offering but hey, if you want to copy, copy the good things. The grille is definitely welcome since it adds a premium feel to the device and aids in proper heat distribution. Overall, the design is fancy and not everyone might be comfortable carrying this for business.
The height of this mat is adjustable so that it rests your laptop at an inline. This helps maximize comfort and reduce strain in some cases. Just like the one from Havit, the Tree New Bee cooler has an additional USB port to compensate for the one it will be utilizing from your laptop. The best part about this particular cooler though, is the manual control it provides to the user. Say goodbye to overheating problems on your l
aptop once and for all with this efficient gadget. Its double dials cater to each fan located both above and below allowing flexibility in controlling their speeds as needed or shutting down one set altogether when circumstances call for it (like needing maximum juice from an almost depleted battery). Bear in mind though that its design lacks the ability of turning off those bright blue light rays – making it less than ideal for those who prefer a more subtle look.
There are no surprises performance-wise on the Tree New Bee Cooler. With four massive 140mm fans churning out air at a massive 1200rpm, this is about as best as it gets in performance arena. What makes this package even better is the fact that it is very silent, thankfully due to large fans which tend to produce less noise than their smaller counterparts.
So then, who should buy this cooler? Enthusiasts that are okay with an aggressive design, want nothing but the best in performance, and are willing to sacrifice on portability, should buy this cooler without a second thought. Those looking for a subtle design or better portability should consider the other options in this list.
4. Kootek Laptop Cooling Pad – No compromises
Quick Overview
If the number of fans on a cooling pad were a race, the Kootek Cooling Pad would come in at first place. As you would have noticed, this cooling pad has 5 cooling fans! While it does not equate to better performance in real life, it sure is a cool gimmick and in some cases, a useful feature, as we will elaborate in the upcoming paragraphs.
The design of the Kootek Cooling pad is simple, understated, and elegant. The single tone black finish is something we highly appreciate in a cooler. In fact, we would go as far as saying this feels the sturdiest of all the other cooler's because of its heft and thickness. Again, the metal mesh grille returns on this offering which ensures maximum heat dissipation in what we call a 'no-compromise' package.
We won't claim that it is the sleekest cooler at 1.38 inches or the lightest at 2.52 lbs, but we do know that it has some useful features hidden inside at these compromises. For one, this cooling pad gives you the freedom of 6-way adjustments with two stoppers at front to prevent your laptop from slipping. This arrangement ensures excellent ergonomics and prevents injuries or neck and back pain.
The airflow is excellent and this cooler surely has tons of power to propel fresh air into your device. Four of the fans are smaller at 70mm and run at higher speeds of 2000rpm. The central big fan is at 120mm and runs at a speed of around 1000rpm. Surprisingly, the cooler is very quiet against our expectations because of the smaller fans running at high speeds. You can also independently shut the big fans and small fans which is a useful feature. However, the performance is humble against the tremendous horsepower of the Tree New Bee Cooling Pad.
So then, who is this cooler for? People who want a multi-faceted, no-compromise package and are willing to sacrifice portability and a little bit of performance over the flagship offerings. The Kootek Laptop cooling pad has been fancied especially by owners of larger notebooks such as those falling in the 17 inch screen category.
5. Thermaltake Massive V20 Steel Mesh Panel Single – Power
Quick Overview
This one has excellent cooling performance and is made with high quality material along with 200mm led fan which allows big airflow and therefore good cooling effect. A great thing about it is that the fan speed is adjustable which enables good cooling performance to your laptop. Interestingly, there's also an LED light switch using which you can adjust the lighting too.
It includes optimized metal mesh which enables greater flow of air to create an efficient cooling effect on your laptop or notebook. Moreover, it is barely audible which creates a peaceful working environment and it also has efficient USB management and extender.
6. KLIM Wind Laptop Cooling Pad – Performer
Quick Overview
KLIM's Wind laptop cooling pad is an excellent all rounder, with no compromises. It's a performer through and through. The ergonomic design of the laptop cooling pad not only makes it appear striking, visually, but it also has room for 4 large fans, which provides solid cooling, through and through. The powerful four fans allow for great refrigeration and ventilation for your precious laptops. The best part about this laptop cooling pad is that it is multi-purpose, meaning that it provides cooling to laptops, as well as gaming consoles, making it more convenient to have.
Moving towards the highlight feature of this cooling pad, is, of course, its cooling capabilities. The four fans deployed are able to run at 1200 revolutions per minute, while managing to remain quiet during operation, not exceeding 26 dB. The compatibility of the cooling pad is also diverse, ranging from 11 to 19 inches, leaving good room for options and customizations. The aesthetics of the device are also pleasing, with LED lights placed under each fan, for visual pleasance.
There are some added features for convenience, as well. Like the extra USB port, the symmetric wide-spaced design, to keep the biggest of laptops tucked in securely. Overall, this laptop cooling pad is optimally designed for laptops of all sizes, providing your laptop with instant cooling, and little noise.
These were our top 6 picks for Best Laptop Cooler's in 2023 that we think are excellent at their job and don't break the bank. Keep in mind that each customer has individual needs and we respect that so the products will rank differently for each customer.